Mark Steele, MD
Professor of Clinical Practice, Medicine-Pulmonary Sciences & Critical Care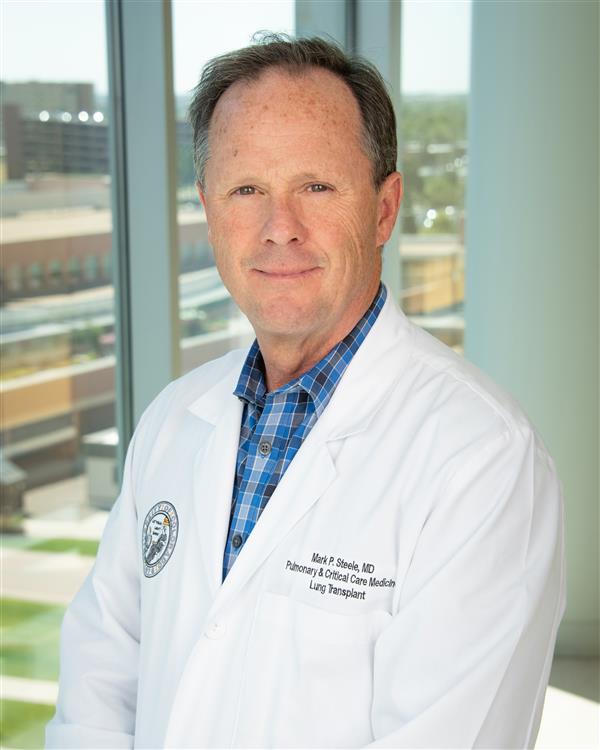 Download CV
Medical School
:
MD, University of Illinois College of Medicine (1982)
Undergraduate School
:
BS, University of Illinois–Urbana-Champaign (IL) (1978)
Fellowships
:
Boston University Medical Center Program, Pulmonary Disease and Critical Care Medicine (1990)
Department
:
Medicine-Pulmonary Sciences & Critical Care
Teaching
Professor of Medicine (2018)
School of Medicine, Medicine
Interstitial Lung Disease Genetics of Pulmonary Fibrosis Lung Transplantation-Candidate Selection and Post-transplant Care
Publications
53. Steele MP, Peljto AP,, Mathai SK, Humphries S, Bang TJ, Oh A, Teague S, Giuseppe C, Sigakis C, Kropski JA, Loyd JE, Blackwell TS, Brown KK, Schwarz, MI, Warren RA, Powers J, Walts AD, Markin C, Fingerlin TE, Yang IV, Lynch DA, Lee JS, Schwartz, DA. Incidence and Progression of Fibrotic Lung Disease in an At-Risk Cohort. Am J Resp Crit Care Med: 2022 PMID: 36094461
54. Peljto, AP, Blumhagen RZ, …Steele MP, Lee JS, Yang IV, Fingerlin TE ,Schwartz, DA and NHLBI Trans-Omics for Precision Medicine (TOPMed) Consortium. Idiopathic Pulmonary Fibrosis is Associated with Common Genetic Variants and Limited Rare Variants Am J Resp Crit Care Med 2022. PMID: 36602845
Specialty Information
Specialties
Pulmonary Disease and Critical Care Medicine, Board Certification
Conditions & Treatments
Lungs and Breathing - Interstitial Lung Disease
Lungs and Breathing
Surgery - Lung Transplant Surgery
Surgery
Clinical Interests
Lung Transplantation Interstitial Lung Diseases

Care Philosophy
Optimizing and maximizing excellence and compassion.


Personal Interests
I enjoy being outdoors; cycling, running, swimming.

Volunteer Activities
Indigent Medical Care


General Information
Medical Schools
:
MD, University of Illinois College of Medicine (1982)
Undergraduate Schools
:
BS, University of Illinois–Urbana-Champaign (IL) (1978)
Fellowships
:
Boston University Medical Center Program, Pulmonary Disease and Critical Care Medicine (1990)
Download CV
Department
:
Medicine-Pulmonary Sciences & Critical Care