Joshua Parry, MD
Associate Professor, Orthopedics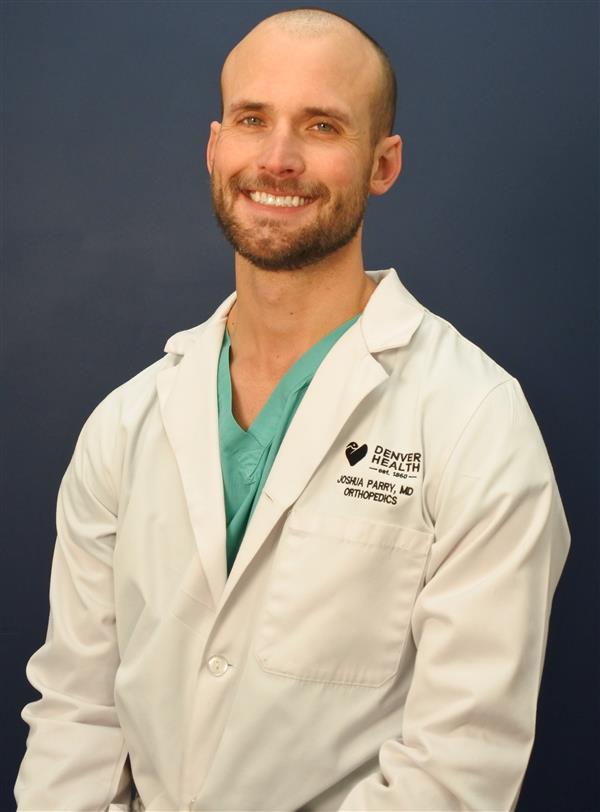 Download CV
Medical School
:
MD, University of Texas Medical School at Houston (2012)
Graduate School
:
MS, Mayo Graduate School (2016)
Undergraduate School
:
BS, University of Texas–Austin (TX) (2007)
Residency
:
College of Medicine, Mayo Clinic (Rochester) Program, Chief Resident, Orthopedics (2017)
Fellowships
:
Orlando Health Program, Orthopedic Trauma (2018)
Department
:
Orthopedics
Professional Titles
Orthopaedic Trauma Surgeon
Director of Research and Education
Director of Orthopaedic Trauma
Recognition & Awards
5280 Magazine "Denver Top Doctor", 5280 Magazine (2022)
Orthopaedic Surgery Resident Teaching Award, Naval Medical Center San Diego (2022)
5280 Magazine "Denver Top Doctor", 5280 Magazine (2021)
Kathy Cramer Young Clinician Memorial Scholarship Award, Orthopaedic Trauma Association (2018)
Sponsored participation in the AAOS/OREF/ORS Clinician Scholar Career Development Program (CSCDP)
Patrick J. Kelly Research Award for Outstanding Laboratory Based Research, Department of Orthopaedics, Mayo Clinic (2017)
Research Interests
Orthopaedic trauma and its complications
Teaching
Associate Professor (2018)
School of Medicine, Orthopedics
Publications
Rodriguez-Fontan F, Tucker NJ, Strage KE, Mauffrey C, Parry JA. Antegrade versus retrograde nailing of proximal femur fractures: A cortical diameter based study. J Orthop. 2022 Nov-Dec;34:385-390. PubMed PMID: 36275489
Hadeed MM, Strage KE, Mauffrey C, Heare A, Parry JA. A standardized method of measuring screw breach on postoperative computed tomography scans following percutaneous fixation of the posterior pelvic ring. Eur J Orthop Surg Traumatol. 2022 Oct 5. [Epub ahead of print] PubMed PMID: 36197500
Parry JA, Chavarria J, Giddins S, Rojas D, Mauffrey C, Baldini T, Lv Y. The Efficacy of Cefazolin Versus Vancomycin Antibiotic Cement Spacers. J Orthop Trauma. 2022 Sep 26. [Epub ahead of print] PubMed PMID: 36162060
Hadeed MM, Woods D, Koerner J, Strage KE, Mauffrey C, Parry JA. Risk factors for screw breach and iatrogenic nerve injury in percutaneous posterior pelvic ring fixation. J Clin Orthop Trauma. 2022 Oct;33:101994. PubMed PMID: 36061971
Hammerberg EM, Tucker NJ, Stacey SC, Mauffrey C, Heare A, Verduzco LA, Parry JA. Institution of same-day total joint replacement at an urban safety net hospital during the COVID-19 pandemic. J Orthop. 2022 Nov-Dec;34:173-177. PubMed PMID: 36060728
Practice Locations
Denver Health
777 Bannock St
Denver
, CO
80204
303-436-6000
Hospital Affiliation
Denver Health Medical Center
Specialty Information
Specialties
Orthopedics, Board Certification (2021)
Personal Interests
Joshua A. Parry, MD, specializes in the surgical treatment of complex fractures and infections involving the upper and lower limbs (hips to toes, shoulders to wrists) in both adults and children. He has been practicing at Denver Health since 2018. He is an Associate Professor of Orthopaedics at the University of Colorado School of Medicine and is a clinical instructor of medical students, orthopaedic residents, and orthopaedic trauma fellows. He is the director of orthopaedic research and education at Denver Health and has authored over 100 peer-reviewed scientific articles. Dr. Parry is originally from Keller, Texas. He completed a bachelor's degree in Molecular Biology at the University of Texas at Austin. He received his medical degree from the McGovern Medical School at the University of Texas at Houston and completed his residency training at the Mayo Clinic in Rochester, Minnesota. Following residency, he completed a fellowship in orthopaedic trauma at the Orlando Regional Medical Center. Outside of work, Dr. Parry enjoys all that Colorado has to offer, including mountain biking, skiing/snowboarding, ice hockey, rollerblading, running, biking, swimming, and hiking.


General Information
Medical Schools
:
MD, University of Texas Medical School at Houston (2012)
Graduate Schools
:
MS, Mayo Graduate School (2016)
Undergraduate Schools
:
BS, University of Texas–Austin (TX) (2007)
Residency Programs
:
College of Medicine, Mayo Clinic (Rochester) Program, Chief Resident, Orthopedics (2017)
Fellowships
:
Orlando Health Program, Orthopedic Trauma (2018)
Download CV
Department
:
Orthopedics