Premal Trivedi, MD
Assistant Professor, Radiology-Interventional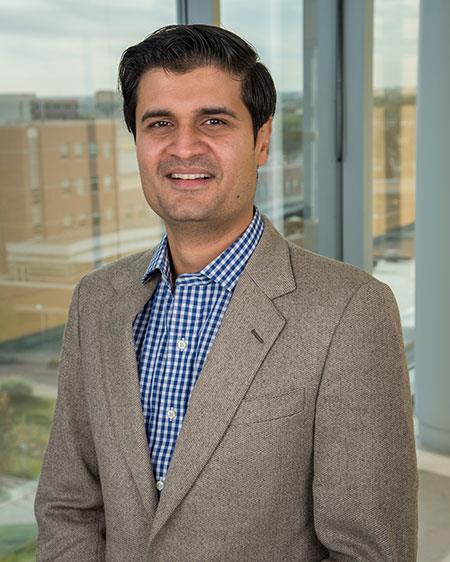 Medical School
:
MD, Georgetown University School of Medicine (2012)
Graduate School
:
MSc, Johns Hopkins University (2007)
Undergraduate School
:
BS, Johns Hopkins University (MD) (2006)
Internship
:
Georgetown University Hospital/Washington Hospital Center Program (2013)
Residency
:
University of Colorado (University Hospital) Program, Chief Resident, Diagnostic (2017)
Fellowships
:
Johns Hopkins University School of Medicine Program, Vascular and Interventional Radiology (2018)
Department
:
Radiology-Interventional
Professional Titles
Assistant Professor, Interventional Radiology
Research Interests
I study how patients do with the care they receive in the real world. My research focuses on both the cost and clinical outcomes of procedures and designing solutions to optimize care at the population health level.
Publications
Sterbis E, Liang R, Trivedi P, Kwak J, Major EC, Karam SD, Morgan RL. Lack of Adherence to Guideline-Based Imaging Before Subsequent Radiation in Patients with Non-Small Cell Lung Cancer: Impact on Patient Outcomes. J Nucl Med. 2023 Jan;64(1):75-81. PubMed PMID: 35680415
Trivedi P, Jordan G, Ho PM. Leveraging Value-Based Payment Models to Reduce Health Inequities in Radiology. J Am Coll Radiol. 2022 Jan;19(1 Pt B):143-145. PubMed PMID: 35033302
Musa A, Afify O, Al-Hihi M, Anavim A, Holton JM, Azar S, Kumar V, Cassella KD, Ledbetter KA, Trivedi PS, Arnold EC, Ter-Oganesyan R. Views of Diagnostic Radiology Residency Program Directors Regarding Methods to Increase Female and Under-Represented in Medicine Residents: A Cross-sectional Study. Acad Radiol. 2022 May 14. [Epub ahead of print] PubMed PMID: 35581054
Timpone VM, Reid M, Jensen A, Poisson SN, Patten L, Costa B, Trivedi PS. Lost to Follow-Up: A Nationwide Analysis of Patients With Transient Ischemic Attack Discharged From Emergency Departments With Incomplete Imaging. J Am Coll Radiol. 2022 Aug;19(8):957-966. PubMed PMID: 35724735
Trivedi PS, Timpone VM, Morgan RL, Jensen AM, Reid M, Ho PM, Ahmed O. A Practical Guide to Use of Publicly Available Data Sets for Observational Research in Interventional Radiology. J Vasc Interv Radiol. 2022 Nov;33(11):1286-1294. PubMed PMID: 35964883
Specialty Information
Specialties
Vascular and Interventional Radiology, Board Certification
Conditions & Treatments
Cancers
Radiology - Interventional
Radiology
Clinical Interests
Interventional oncology: yttrium90, TACE, ablation Portal interventions: TIPS, BRTO Dialysis access interventions Women's health: uterine fibroid embolization

Care Philosophy
Making decisions in the setting of an illness can be challenging, even overwhelming for a number of reasons. My approach as a care provider is to champion the patient's cause; to encourage, to clarify, to steer with a combination of best-practice knowledge and collaborative decision making. The best outcomes occur when the patient, family and physicians work together.


General Information
Medical Schools
:
MD, Georgetown University School of Medicine (2012)
Graduate Schools
:
MSc, Johns Hopkins University (2007)
Undergraduate Schools
:
BS, Johns Hopkins University (MD) (2006)
Internships
:
Georgetown University Hospital/Washington Hospital Center Program (2013)
Residency Programs
:
University of Colorado (University Hospital) Program, Chief Resident, Diagnostic (2017)
Fellowships
:
Johns Hopkins University School of Medicine Program, Vascular and Interventional Radiology (2018)
Department
:
Radiology-Interventional