Fernando Kim, MD, MBA, FACS
Professor, Surgery-Urology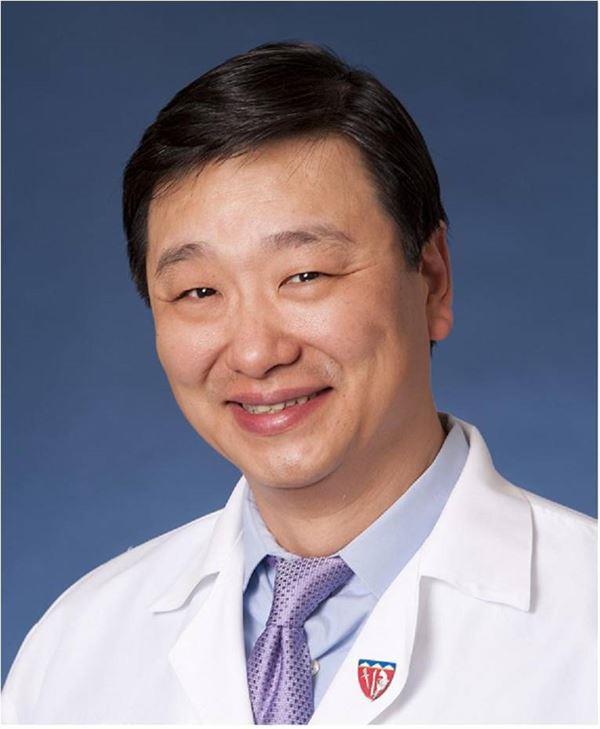 Medical School
:
MD, University of Sao Paulo (1989)
Internship
:
University of Colorado (1994)
Residency
:
Loyola University Program, Urology (2000)
Fellowships
:
University of Colorado, Trauma and Acute Care Surgery (1994)
Johns Hopkins University Program, Urology (2002)
Languages
:
English
Department
:
Surgery-Urology
Research Interests
I am a primary investigator/co-PI of several grants, including studies of renal ischemia-reperfusion injury, development of minimally invasive surgical techniques, and prostate cancer prevention campaign in minority communities.
Publications
Shah P, Kim FJ, Mian BM. Genitourinary cancer management during a severe pandemic: Utility of rapid communication tools and evidence-based guidelines. BJUI Compass. 2020 May;1(2):45-59. PubMed PMID: 32537615
Moses RA, Selph JP, Voelzke BB, Piotrowski J, Eswara JR, Erickson BA, Gupta S, Dmochowski RR, Johnsen NV, Shridharani A, Blaschko SD, Elliott SP, Schwartz I, Harris CR, Borawski K, Figler BD, Osterberg EC 3rd, Burks FN, Bihrle W 3rd, Miller B, Santucci RA, Breyer BN, Flynn B, Higuchi T, Kim FJ, Broghammer JA, Presson AP, Myers JB. An American Association for the Surgery of Trauma (AAST) prospective multi-center research protocol: outcomes of urethral realignment versus suprapubic cystostomy after pelvic fracture urethral injury. Transl Androl Urol. 2018 Aug;7(4):512-520. PubMed PMID: 30211041
Bove P, Iacovelli V, Sandri M, Carilli M, Cindolo L, Autorino R, Kavoussi LR, Micali S, Porpiglia F, Rha KH, Kim FJ. Entry techniques in laparoscopic radical and partial nephrectomy: a multicenter international survey of contemporary practices. Minerva Urol Nefrol. 2018 Aug;70(4):414-421. PubMed PMID: 29969000
da Silva RD, Kim FJ. Prostate Cancer - Local Treatment after Radiorecurrence: Salvage Cryoablation. Int Braz J Urol. 2018 May-Jun;44(3):435-439. PubMed PMID: 29792652
Molina WR, Pessoa R, Donalisio da Silva R, Kenny MC, Gustafson D, Nogueira L, Leo ME, Yu MK, Kim FJ. A new patient safety smartphone application for prevention of "forgotten" ureteral stents: results from a clinical pilot study in 194 patients. Patient Saf Surg. 2017;11:10. PubMed PMID: 28396695
Practice Locations
Denver Health
777 Bannock St
Denver
, CO
80204
303-436-6000
Hospital Affiliation
Denver Health Medical Center
University of Colorado Hospital
Specialty Information
Specialties
Urologic Oncology
Minimally invasive Urological surgery, Specialized Training (0001)
Conditions & Treatments
Kidneys and Urinary System
Cancers - Kidney Cancer
Cancers - Urologic Cancer
Cancers
Clinical Interests
I am interested in urologic oncology (kidney and prostate diseases), laparoscopy and minimally invasive surgery, reconstructive surgery. I am proud to serve the underserved and minority population.

Care Philosophy
To care for the patient and family following the principles of Patient Safety with respect and excellence applying multi-disciplinary evidence-based care.


General Information
Medical Schools
:
MD, University of Sao Paulo (1989)
Internships
:
University of Colorado (1994)
Residency Programs
:
Loyola University Program, Urology (2000)
Fellowships
:
University of Colorado, Trauma and Acute Care Surgery (1994)
Johns Hopkins University Program, Urology (2002)
Languages
:
English
Department
:
Surgery-Urology