Sandra Luna-Fineman, MD
Associate Professor, Pediatrics-Heme/Onc and Bone Marrow Transplantation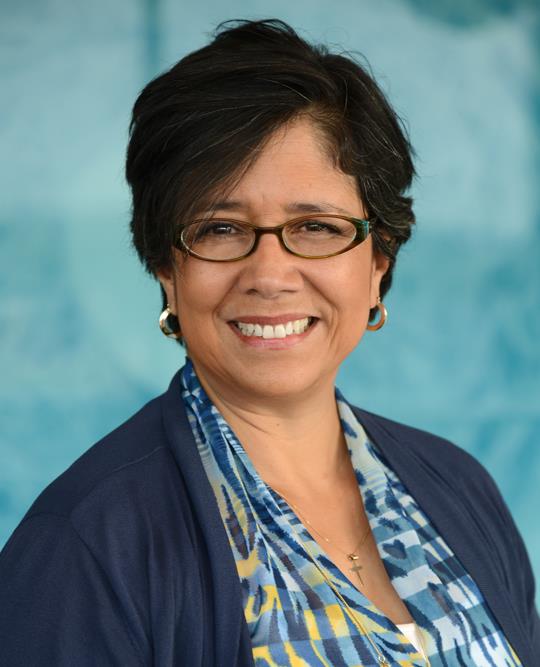 Medical School
:
MD, University of San Carlos School of Medicine (1984)
Internship
:
New York University School of Medicine Program
Residency
:
New York University School of Medicine Program, Pediatrics (1985)
Fellowships
:
Stanford University Program, Pediatric Hematology / Oncology (1991)
Languages
:
English, Spanish
Department
:
Pediatrics-Heme/Onc and Bone Marrow Transplantation
Professional Titles
Center for Global Health, CU Anschutz, member
Consultant, St Jude Global Medicine, St Jude Children's Research Hospital, Memphis TN
Research Interests
Retinoblastoma: clinical approaches to improvement of outcomes around the world. Scientific writing with colleagues from LMIC
Teaching
Associate Professor of Pediatrics (2017)
School of Medicine, Pediatrics
Global Pediatric Oncology, Retinoblastoma, Lymphoma, Wilms
Member, Center for Global Health (2017)
School of Medicine, Pediatrics
non-communicable disorders - Cancer
Publications
Fabian ID, Stacey AW, Bowman R, Khetan V, Blum S, Keren-Froim N, Staffieri S, Foster A. Retinoblastoma management during the COVID-19 pandemic: A report by the Global Retinoblastoma Study Group including 194 centers from 94 countries. Pediatr Blood Cancer. 2021 Jan;68(1):e28584. PubMed PMID: 32762025
Vasquez L, Sampor C, Villanueva G, Maradiegue E, Garcia-Lombardi M, Gomez-García W, Moreno F, Diaz R, Cappellano AM, Portilla CA, Salas B, Nava E, Brizuela S, Jimenez S, Espinoza X, Gassant PY, Quintero K, Fuentes-Alabi S, Velasquez T, Fu L, Gamboa Y, Quintana J, Castiglioni M, Nuñez C, Moreno A, Luna-Fineman S, Luciani S, Chantada G. Early impact of the COVID-19 pandemic on paediatric cancer care in Latin America. Lancet Oncol. 2020 Jun;21(6):753-755. PubMed PMID: 32437662
Sullivan M, Bouffet E, Rodriguez-Galindo C, Luna-Fineman S, Khan MS, Kearns P, Hawkins DS, Challinor J, Morrissey L, Fuchs J, Marcus K, Balduzzi A, Basset-Salom L, Caniza M, Baker JN, Kebudi R, Hessissen L, Sullivan R, Pritchard-Jones K. The COVID-19 pandemic: A rapid global response for children with cancer from SIOP, COG, SIOP-E, SIOP-PODC, IPSO, PROS, CCI, and St Jude Global. Pediatr Blood Cancer. 2020 Jul;67(7):e28409. PubMed PMID: 32400924
Fabian ID, Abdallah E, Abdullahi SU, Abdulqader RA, Adamou Boubacar S, Ademola-Popoola DS, Adio A, Afshar AR, Aggarwal P, Aghaji AE, Ahmad A, Akib MNR, Al Harby L, Al Ani MH, Alakbarova A, Portabella SA, Al-Badri SAF, Alcasabas APA, Al-Dahmash SA, Alejos A, Alemany-Rubio E, Alfa Bio AI, Alfonso Carreras Y, Al-Haddad C, Al-Hussaini HHY, Ali AM, Alia DB, Al-Jadiry MF, Al-Jumaily U, Alkatan HM, All-Eriksson C, Al-Mafrachi AARM, Almeida AA, Alsawidi KM, Al-Shaheen AASM, Al-Shammary EH, Amiruddin PO, Antonino R, Astbury NJ, Atalay HT, Atchaneeyasakul LO, Atsiaya R, Attaseth T, Aung TH, Ayala S, Baizakova B, Balaguer J, Balayeva R, Balwierz W, Barranco H, Bascaran C, Beck Popovic M, Benavides R, Benmiloud S, Bennani Guebessi N, Berete RC, Berry JL, Bhaduri A, Bhat S, Biddulph SJ, Biewald EM, Bobrova N, Boehme M, Boldt HC, Bonanomi MTBC, Bornfeld N, Bouda GC, Bouguila H, Boumedane A, Brennan RC, Brichard BG, Buaboonnam J, Calderón-Sotelo P, Calle Jara DA, Camuglia JE, Cano MR, Capra M, Cassoux N, Castela G, Castillo L, Català-Mora J, Chantada GL, Chaudhry S, Chaugule SS, Chauhan A, Chawla B, Chernodrinska VS, Chiwanga FS, Chuluunbat T, Cieslik K, Cockcroft RL, Comsa C, Correa ZM, Correa Llano MG, Corson TW, Cowan-Lyn KE, Csóka M, Cui X, Da Gama IV, Dangboon W, Das A, Das S, Davanzo JM, Davidson A, De Potter P, Delgado KQ, Demirci H, Desjardins L, Diaz Coronado RY, Dimaras H, Dodgshun AJ, Donaldson C, Donato Macedo CR, Dragomir MD, Du Y, Du Bruyn M, Edison KS, Eka Sutyawan IW, El Kettani A, Elbahi AM, Elder JE, Elgalaly D, Elhaddad AM, Elhassan MMA, Elzembely MM, Essuman VA, Evina TGA, Fadoo Z, Fandiño AC, Faranoush M, Fasina O, Fernández DDPG, Fernández-Teijeiro A, Foster A, Frenkel S, Fu LD, Fuentes-Alabi SL, Gallie BL, Gandiwa M, Garcia JL, García Aldana D, Gassant PY, Geel JA, Ghassemi F, Girón AV, Gizachew Z, Goenz MA, Gold AS, Goldberg-Lavid M, Gole GA, Gomel N, Gonzalez E, Gonzalez Perez G, González-Rodríguez L, Garcia Pacheco HN, Graells J, Green L, Gregersen P... Global Retinoblastoma Presentation and Analysis by National Income Level. JAMA Oncol. 2020 May 1;6(5):685-695. PubMed PMID: 32105305
Luna-Fineman S, Chantada G, Alejos A, Amador G, Barnoya M, Castellanos ME, Fu L, Fuentes-Alabi S, Girón V, Goenz MA, Maldonado C, Méndez G, Morales RA, Ortiz R, Sanchez G, Wilson M, Rodríguez-Galindo C. Delayed Enucleation With Neoadjuvant Chemotherapy in Advanced Intraocular Unilateral Retinoblastoma: AHOPCA II, a Prospective, Multi-Institutional Protocol in Central America. J Clin Oncol. 2019 Nov 1;37(31):2875-2882. PubMed PMID: 31536438
Specialty Information
Specialties
Pediatric Hematology / Oncology, Board Certification (, 2016)
Colorado Medical, License (2017)
Pediatric Hematology/Oncology, Board Certification (1996)
Pediatrics, Board Certification (1991)
California Medical, License (1988)
Conditions & Treatments
Cancers - Pediatric Cancer
Cancers
Cancers - Retinoblastoma
Cancers - Lymphoma
Cancers - Leukemia (Childhood)
Clinical Interests
Clinical Interests: retinoblastoma, Hodgkin lymphoma, non-Hodgkin lymphoma and Global Oncology. Extraordinary, innovative and cutting edge care - where the family is the FOCUS.

Care Philosophy
What drove me into Pediatrics, was the unique opportunity of treating children and helping their families bridge into a happy and better future, despite any health problems. I strive to provide the best evidence-based family-centered care for my patients. This care is multi-disciplinary and comprehensive with respect, all inclusiveness and openness in every step of diagnosis, treatment and followup of children with cancer.


Personal Interests
I love to Read and hike. Travel and music

Volunteer Activities
I volunteer for International Global Oncology and Medical Community


General Information
Medical Schools
:
MD, University of San Carlos School of Medicine (1984)
Internships
:
New York University School of Medicine Program (0001)
Residency Programs
:
New York University School of Medicine Program, Pediatrics (1985)
Fellowships
:
Stanford University Program, Pediatric Hematology / Oncology (1991)
Languages
:
English, Spanish
Department
:
Pediatrics-Heme/Onc and Bone Marrow Transplantation