Benjamin Marshall, DO
Assistant Professor, Physical Medicine & Rehabilitation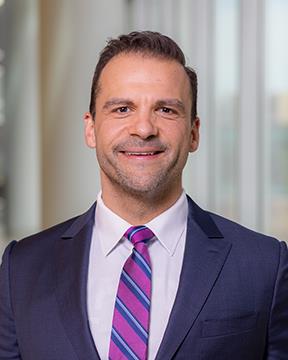 Medical School
:
DO, Chicago College of Osteopathic Medicine of Midwestern University (2012)
Undergraduate School
:
BS, University of California–Los Angeles (CA) (2004)
Residency
:
McGaw Medical Center of Northwestern University Program, Physical Medicine and Rehabilitation
Fellowships
:
University of Colorado, Pain Medicine
Department
:
Physical Medicine & Rehabilitation
Publications
Akuthota V, Marshall B, Boimbo S, Osborne MC, Garvan CS, Garvan GJ, Buzanowska M, Sauerwein K, Sridhar BV, Plastaras CT. Clinical Course of Motor Deficits from Lumbosacral Radiculopathy Due to Disk Herniation. PM R. 2019 Aug;11(8):807-814. PubMed PMID: 30689304
Akuthota V, Marshall B, Mintken PE, Schenkman M, Kumbhare D. Second-Order Peer Reviews of Clinically Relevant Articles for the Physiatrist: "Early Physical Therapy Vs Usual Care in Patients with Recent-Onset Low Back Pain" (Fritz JM, Magel JS, McFadden M, et al, JAMA 2015): "Physical Therapy May Not Help Acute Lower Back Pain Sufferers". Am J Phys Med Rehabil. 2017 Sep;96(9):682-685. PubMed PMID: 28081028
Practice Locations
UCHealth Spine Center - Anschutz Medical Campus
Anschutz Inpatient Pavilion - 1st Floor
12605 E. 16th Avenue
Aurora
, CO
80045
720-848-1980
Denver Health
777 Bannock St
Denver
, CO
80204
303-436-6000
Specialty Information
Specialties
Physical Medicine and Rehabilitation, Board Certification
Pain Medicine, Board Certification
Electrodiagnostic Medicine, Board Certification (0001)
Clinical Interests
I specialize in the non-operative management of sports, musculoskeletal, and spine/nerve injuries including interventional spine procedures and electrodiagnostic testing.


General Information
Medical Schools
:
DO, Chicago College of Osteopathic Medicine of Midwestern University (2012)
Undergraduate Schools
:
BS, University of California–Los Angeles (CA) (2004)
Residency Programs
:
McGaw Medical Center of Northwestern University Program, Physical Medicine and Rehabilitation (0001)
Fellowships
:
University of Colorado, Pain Medicine (0001)
Department
:
Physical Medicine & Rehabilitation