Lorna Allen, FNP-C, MSN, RN
Assistant Professor, Medicine-Infectious Disease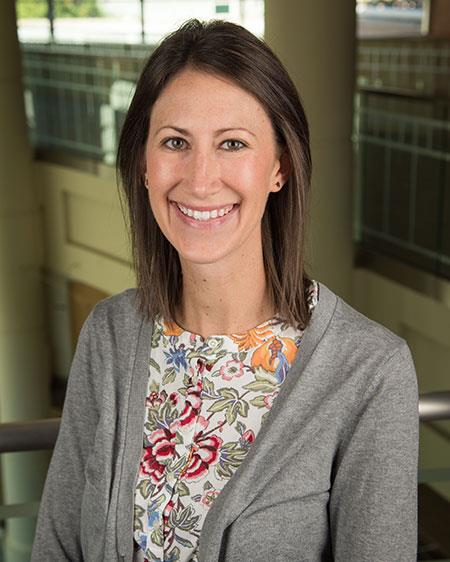 Graduate School
:
MSN, Holy Names University (2013)
Undergraduate Schools
:
BS, Santa Clara University (CA) (2005)
BSN, Regis University (CO) (2008)
Languages
:
English
Department
:
Medicine-Infectious Disease
Publications
Tanner M Johnson, Amanda H Howard, Matthew A Miller, Lorna L Allen, Misha Huang, Kyle C Molina, Valida Bajrovic, Effectiveness of bezlotoxumab for prevention of recurrent Clostridioides difficile infection among transplant recipients, Open Forum Infectious Diseases, 2021;, ofab294, https://doi.org/10.1093/ofid/ofab294
Johnson, T. M., Molina, K. C., Howard, A. H., Schwarz, K., Allen, L., Huang, M., Bajrovic, V., & Miller, M. A. (2021). Real-World Comparison of Bezlotoxumab to Standard of Care Therapy for Prevention of Recurrent Clostridioides difficile Infection in Patients at High Risk for Recurrence. Clinical infectious diseases : an official publication of the Infectious Diseases Society of America, ciab674. Advance online publication. https://doi.org/10.1093/cid/ciab674
Specialty Information
Specialties
Infectious Disease
AANP, Board Certification (2014)
Care Philosophy
I enjoy developing trusting relationships with my patients. I strive to treat the whole person and utilize shared decision making when making treatment decisions.


Personal Interests
In my spare time, I enjoy hiking, reading, travel and spending time with my puppy.

Volunteer Activities
I enjoy volunteering and being an active member of my community. I have worked with Project Angel Heart since I moved to CO, it has a great mission and is always rewarding.


General Information
Graduate Schools
:
MSN, Holy Names University (2013)
Undergraduate Schools
:
BS, Santa Clara University (CA) (2005)
BSN, Regis University (CO) (2008)
Languages
:
English
Department
:
Medicine-Infectious Disease