Holly Frost, MD
Associate Professor, Pediatrics-General Pediatrics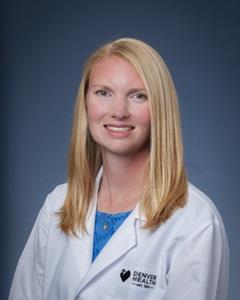 Medical School
:
MD, Medical College of Wisconsin (2010)
Undergraduate School
:
BS, Michigan Technological University (MI) (2004)
Internship
:
University of Colorado (Children's Hospital Colorado) Program (2011)
Residency
:
University of Colorado (Children's Hospital Colorado) Program, Pediatrics (2013)
Languages
:
English
Department
:
Pediatrics-General Pediatrics
Professional Titles
Associate Professor Pediatrics
Senior Research Scientist
Recognition & Awards
Top Abstract in Diagnostics, IDSA (2021)
IDEA Incubator: Grand Prize for Innovation, IDSA (2020)
Recognition of Quality, AAP (2018)
Shining Star Award, Marshfield Clinic (2016)
Kass Award, Infectious Disease Society of America (2013)
Teaching
Associate Professor (2022)
School of Medicine, Pediatrics
General academic pediatrics; infectious diseases; clinical and translational research
Senior Research Scientist (2022)
School of Medicine, Pediatrics
Publications
Frost HM, Hersh AL. Rethinking Our Approach to Management of Acute Otitis Media. JAMA Pediatr. 2022 May 1;176(5):439-440. PubMed PMID: 35188531
McWhirter L, Lou Y, Reingold S, Warsh S, Thomas-Gale T, Haynes C, Rinehart D, Wendel KA, Frost HM. Rates of Appropriate Treatment and Follow-Up Testing After a Gonorrhea and/or Chlamydia Infection in an Urban Network of Federally Qualified Health Center Systems. Sex Transm Dis. 2022 May 1;49(5):319-324. PubMed PMID: 35001017
Sebastian T, Frost HM. A qualitative evaluation of pediatric conjunctivitis medical decision making and opportunities to improve care. J AAPOS. 2022 Jun;26(3):113.e1-113.e6. PubMed PMID: 35421542
Tomcho MM, Lou Y, O'Leary SC, Rinehart DJ, Thomas-Gale T, Penny L, Frost HM. Closing the Equity Gap: An Intervention to Improve Chlamydia and Gonorrhea Testing for Adolescents and Young Adults in Primary Care. J Prim Care Community Health. 2022 Jan-Dec;13:21501319221131382. PubMed PMID: 36300428
Frost HM, Sebastian T, Keith A, Kurtz M, Dominguez SR, Parker SK, Jenkins TC. COVID-19 and Acute Otitis Media in Children: A Case Series. J Prim Care Community Health. 2022 Jan-Dec;13:21501319221082351. PubMed PMID: 35289210
Practice Locations
Denver Health
777 Bannock St
Denver
, CO
80204
303-436-6000
Hospital Affiliation
University of Colorado Hospital
Denver Health Medical Center
Specialty Information
Specialties
Pediatrics, Board Certification (2013, 2022)
Neonatal Rescucitation Program, Certificate (2018)
Pediatric Advanced Life Support, Certificate (2017)
Fellowship Government and Community Service-Pediatric Obesity Prevention, Specialized Training (2007)
Public Speaking
Yes
I speak on improving core for children with common outpatient infections.
General Information
Medical Schools
:
MD, Medical College of Wisconsin (2010)
Undergraduate Schools
:
BS, Michigan Technological University (MI) (2004)
Internships
:
University of Colorado (Children's Hospital Colorado) Program (2011)
Residency Programs
:
University of Colorado (Children's Hospital Colorado) Program, Pediatrics (2013)
Languages
:
English
Department
:
Pediatrics-General Pediatrics