Teresa Alpert, CO
Instructor, Orthopedics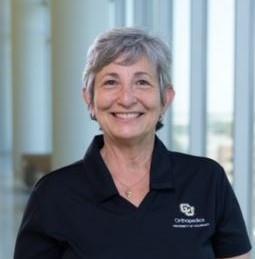 Professional Titles
Instructor
Certified Orthotist, C.PED, PMAC
Recognition & Awards
Champion of Care, Sinai Hospital (2016)
Outstanding Patient Care
Conrad Jobst Precision Award, Custom Compression Therapy, Conrad Jobst (2002)
2002-2008
Nominated Entrepreneur of the Year, Maryland, Entrepreneur of the Year, Maryland (1997)
Maryland's Top 100 Women, Maryland's Top 100 Women (1996)
Teaching
Instructor (2017)
School of Medicine, Orthopedics
Professional Memberships
American Orthotic & Prosthetic Association, Member
National Hospice Organization Professional, Member
American Society of Orthopedic Professionals, Member
Prescription Footwear Association, Member
American Society of Podiatric Medical Assistants, Member
Century Club Pedorthic Scholarship Fund, Founding Member
Specialty Information
Specialties
Orthotics
Certified Pedorthist, Board Certification (1992)
Certified Orthotist, Board Certification (1992)
Conditions & Treatments
Bones, Joints and Muscles
Bones, Joints and Muscles - Foot and Ankle Injuries and Disorders
Clinical Interests
Individualized and customized orthotics for both daily use and sports activities.

Care Philosophy
I take a holistic approach with all patients; every foot is different and no two feet are the same. Everything we do is a result of ground force reaction as we travel through our day. I want to help lessen the total impact and improve locomotion.


Personal Interests
My favorite activities are hiking, camping, footwear design and function and spending time with my family.

Volunteer Activities
I'm passionate about coaching young girls to be confident and self-sufficient through outdoor activities with Survival Sisters and volunteering with Hadassah Check It Out breast cancer awareness.


General Information
Languages
:
English
Department
:
Orthopedics