Christina Vaughan, MD
Associate Professor, Neurology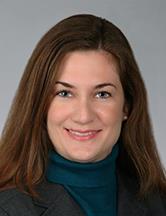 Download CV
Medical School
:
MD, University at Buffalo State University of New York School of Medicine & Biomedical Sciences (2006)
Graduate Schools
:
MHS, Johns Hopkins University Bloomberg School of Public Health (2000)
MS, Rush University Medical Center (2012)
Undergraduate School
:
BS, University of Rochester (NY) (1997)
Internship
:
University of Pittsburgh Medical Center (2007)
Residency
:
University of Pittsburgh Medical Center, Chief Resident, Neurology (2010)
Fellowships
:
Scripps Clinic/Scripps Green Hospital/UCSD Program, Hospice and Palliative Medicine (2017)
Rush University Medical Center Program, Movement Disorders (Neurology) (2012)
Languages
:
English
Department
:
Neurology
Professional Titles
Associate Professor Neurology and Medicine
Neuropalliative Care Specialist
Division Chief, Section of Neuropalliative Care
Publications
Frank S, Testa C, Edmondson MC, Goldstein J, Kayson E, Leavitt BR, Oakes D, O'Neill C, Vaughan C, Whaley J, Gross N, Gordon MF, Savola JM. The Safety of Deutetrabenazine for Chorea in Huntington Disease: An Open-Label Extension Study. CNS Drugs. 2022 Nov;36(11):1207-1216. PubMed PMID: 36242718
Kluger BM, Kramer NM, Katz M, Galifianakis NB, Pantilat S, Long J, Vaughan CL, Foster LA, Creutzfeldt CJ, Holloway RG, Sillau S, Hauser J. Development and Dissemination of a Neurology Palliative Care Curriculum: Education in Palliative and End-of-Life Care Neurology. Neurol Clin Pract. 2022 Apr;12(2):176-182. PubMed PMID: 35747891
Drees C, Hixon AM, Sillau S, Lopez-Esquibel N, Spitz M, Mohler R, Baca C, Fetrow K, Gay Brown M, Vaughan C (2022). Physician distress when treatments fail: Survey on physician distress when treating persons with drug-resistant epilepsy and knowledge of neuropalliative care. Epilepsy & Behavior
Vaughan CL and Bruno V. What neurologists wish palliative care physicians knew; in Miyasaki JM and Kluger BM (eds): Handbook of Clinical Neurology volume 190, Neuropalliative Care – Part 1. Elsevier, 2022.
Kapur S, Vaughan C, Hawkins J, Stebbins G, Hall D. Varenicline for the Treatment of Postural and Gait Dysfunction in Parkinson Disease. Neurol Clin Pract. 2021 Dec;11(6):457-461. PubMed PMID: 34992953
Practice Locations
Rocky Mountain Regional Veterans Administration Medical Center
1700 Wheeling St
Aurora
, CO
80045
303-399-8020
UCHealth Palliative Care - Anschutz Cancer Pavilion
1665 Aurora Court
Anschutz Cancer Pavilion
Aurora
, CO
80045
720-848-9264
Hospital Affiliation
University of Colorado Hospital
Veterans Affairs Medical Center
Specialty Information
Specialties
Neurology, Board Certification (2010)
Hospice and Palliative Medicine, Board Certification (2020, 2020)
Conditions & Treatments
Brain and Nervous System - Movement Disorders
Brain and Nervous System
Clinical Interests
In my clinics I care for patients with serious or life-limiting neurologic disease, focusing on symptom management, coping, planning next steps, and aiding in difficult decision-making. I have a keen interest in identifying the unique palliative care needs of specific populations with neurologic diseases, to identify how best we can help them as a team. In the hospital setting I work with the inpatient Palliative care consult team focusing on relief of pain, stress, and other distressing symptoms of all serious illnesses. *It is never too early to receive Palliative Care when living with a serious illness.*

Care Philosophy
To see each patient in the context of his/her life, identity and family - not just through the lens of the diagnosis. To seek to optimize quality of life for the patient and carer(s) at any stage of disease.


Public Speaking
Yes
I enjoy speaking at patient/care-giver support groups, particularly for Parkinson's disease. I also find teaching medical students, residents, and fellows very gratifying. I am prepared to speak about a variety of topics related to Movement Disorders neurology, palliative medicine, and neuro-palliative care.
General Information
Medical Schools
:
MD, University at Buffalo State University of New York School of Medicine & Biomedical Sciences (2006)
Graduate Schools
:
MHS, Johns Hopkins University Bloomberg School of Public Health (2000)
MS, Rush University Medical Center (2012)
Undergraduate Schools
:
BS, University of Rochester (NY) (1997)
Internships
:
University of Pittsburgh Medical Center (2007)
Residency Programs
:
University of Pittsburgh Medical Center, Chief Resident, Neurology (2010)
Fellowships
:
Scripps Clinic/Scripps Green Hospital/UCSD Program, Hospice and Palliative Medicine (2017)
Rush University Medical Center Program, Movement Disorders (Neurology) (2012)
Download CV
Languages
:
English
Department
:
Neurology