Jagar Jasem, MD, MPH
Assistant Professor, Medicine-Hematology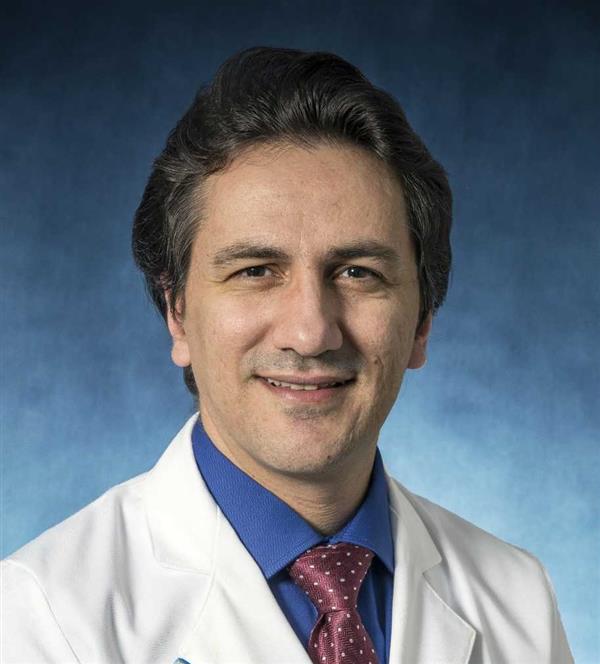 Graduate School
:
MPH, University of Nebraska Medical Center (2012)
Internship
:
Ohio State University Hospital Program (2014)
Residency
:
University of Colorado, Internal Medicine (2016)
Fellowships
:
Johns Hopkins University School of Medicine Program, Hematology (2020)
Languages
:
English, Arabic, Kurdish
Department
:
Medicine-Hematology
Recognition & Awards
Fullbright Scholarship, U.S. Department of State (2010)
"Top Medical Student" Honor Diploma, Ministry of Higher Education, Iraq (2008)
Research Interests
My research interests involve evaluating the health outcomes of patients with lymphoma and other hematological malignancies; including assessing survivorship patterns, quality of care delivered, disparities in care, and the economic burden of cancer care delivery.
Publications
Bahouth MN, Kraus P, Dane K, Plazas Montana M, Tsao W, Tabaac B, Jasem J, Schmidlin H, Einstein E, Streiff MB, Shanbhag S. Synthetic cannabinoid-associated coagulopathy secondary to long-acting anticoagulant rodenticides: Observational case series and management recommendations. Medicine (Baltimore). 2019 Sep;98(36):e17015. PubMed PMID: 31490385
Hambley BC, Norsworthy KJ, Jasem J, Zimmerman JW, Shenderov E, Webster JA, Showel MM, Gondek LP, Dalton WB, Prince G, Gladstone DE, Streiff MB, Pratz KW, Gojo I, Ghiaur G, Levis MJ, Smith BD, DeZern AE. Fibrinogen consumption and use of heparin are risk factors for delayed bleeding during acute promyelocytic leukemia induction. Leuk Res. 2019 Aug;83:106174. PubMed PMID: 31255938
Iyer P, Jasem J, Springer MA, Klein CE, Kabos P. PALB2-Positive Breast Cancer in a 40-Year-Old Man. Oncology (Williston Park). 2017 Jan 15;31(1):50-2, 54. PubMed PMID: 28090623
Jasem J, Fisher CM, Amini A, Shagisultanova E, Rabinovitch R, Borges VF, Elias A, Kabos P. The 21-Gene Recurrence Score Assay for Node-Positive, Early-Stage Breast Cancer and Impact of RxPONDER Trial on Chemotherapy Decision-Making: Have Clinicians Already Decided?. J Natl Compr Canc Netw. 2017 Apr;15(4):494-503. PubMed PMID: 28404760
Amini A, Jasem J, Jones BL, Robin TP, McDermott JD, Bhatia S, Raben D, Jimeno A, Bowles DW, Karam SD. Predictors of overall survival in human papillomavirus-associated oropharyngeal cancer using the National Cancer Data Base. Oral Oncol. 2016 May;56:1-7. PubMed PMID: 27086480
Specialty Information
Specialties
Internal Medicine, Board Certification
Hematology, Board Certification
Conditions & Treatments
Blood / Lymphatic System
Cancers - Lymphoma
Cancers
Care Philosophy
I believe in providing optimal care for lymphoma patients, that is based on an integration of research-based evidence, clinical competence, and the patient values and preferences.


Personal Interests
Following completion of medical school in Kurdistan Region of Iraq, Dr. Jasem came to the United States as a Fulbright Scholar and pursued a master's degree in public health/epidemiology at the University of Nebraska Medical Center. Meanwhile, he re-qualified his medical degree and conducted research, both locally and internationally, involving the health needs assessment of the underserved and refugee populations. He later pursued an internship in internal medicine at The Ohio State University, residency in internal medicine at the University of Colorado, and fellowship in hematology at Johns Hopkins University. In his free time, Dr. Jasem enjoys hiking, soccer, listening to classic oriental music; and translating and publishing history, political, and scientific books from English to Arabic and Kurdish.
Public Speaking
Yes
General Information
Graduate Schools
:
MPH, University of Nebraska Medical Center (2012)
Internships
:
Ohio State University Hospital Program (2014)
Residency Programs
:
University of Colorado, Internal Medicine (2016)
Fellowships
:
Johns Hopkins University School of Medicine Program, Hematology (2020)
Languages
:
English, Arabic, Kurdish
Department
:
Medicine-Hematology