Julie Knoeckel, MD
Assistant Professor, Medicine-Hospital Medicine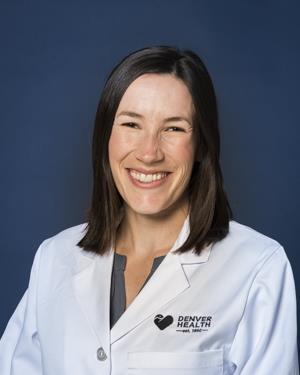 Teaching
Health Equity Pathway Co-director (2019)
School of Medicine, Medicine
Publications
Ramadurai D, Knoeckel J, Stace R J, et al. (February 18, 2022) Feasibility and Impact of Trauma-Informed Care Training in Internal Medicine Residency: A Pilot Study. Cureus 14(2): e22368. doi:10.7759/cureus.22368
Knees M, Sarcone E, Goold A, Mroch J, Knoeckel J. Pain Control Disparities in Acute Pancreatitis. Cureus. 2022 Jul;14(7):e27507. PubMed PMID: 36060399
Opsoclonus in an Encephalopathic Patient: Dancing Around the Diagnosis. Clark S, Knoeckel J. Oral presentation at the 2020 ACP national conference (virtual). April 2020.
Hypercalcemia and Cancer; Not the Usual Suspects. Giro P, Knoeckel J. Presented at the 2020 SGIM National Conference (virtual), May 2020
Worth a Second Look: When the History doesn't match the Histolytica. Johnson T, Knoeckel J. Accepted to the 2020 SGIM National Conference (converted to virtual) May 2020.
Practice Locations
Denver Health
777 Bannock St
Denver
, CO
80204
303-436-6000
Hospital Affiliation
Denver Health Medical Center
Specialty Information
Specialties
Hospital Medicine, Board Certification