Carla Torres-Zegarra, MD
Associate Professor, Dermatology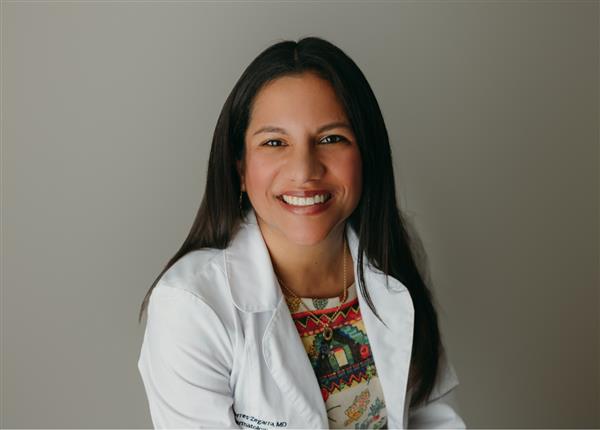 Medical School
:
MD, Universidad Peruana Cayetana Heredia - Lima, Peru (2006)
Residencies
:
University of Colorado, Dermatology (2016)
Cleveland Clinic, Chief Resident, Pediatrics (2012)
Fellowships
:
University of Colorado (Children's Hospital Colorado) Program, Pediatric Dermatology (2017)
Languages
:
English, Spanish, French
Department
:
Dermatology
Professional Titles
Assistant Professor in Dermatology
Publications
Torres-Zegarra C, Sundararajan D, Benson J, Seagle H, Witten M, Walders-Abramson N, Simon SL, Huguelet P, Nokoff NJ, Cree-Green M. Care for Adolescents With Polycystic Ovary Syndrome: Development and Prescribing Patterns of a Multidisciplinary Clinic. J Pediatr Adolesc Gynecol. 2021 Oct;34(5):617-625. PubMed PMID: 33794340
Pediatric Dermatology DDx Deck - 3rd Edition
Current diagnosis and treatment - Pediatrics. 25th Edition. Chapter 15: Skin
Dermatology Secrets: Chapter 24 Viral exanthems
Dermatology Secrets: Chapter 25 Bullous disorders in Pediatrics
Professional Memberships
American Academy of Dermatology, Fellow
American Academy of Pediatrics, Fellow
Society of Pediatric Dermatoogy, Member
Pediatric Dermatology Research Alliance (PeDRA), Member
Women's Dermatologic Society, Member
Peruvian College of Physicians, Member
Peruvian American Medical Society (PAMS), Member
Specialty Information
Specialties
Dermatology, Board Certification (2016)
Pediatrics, Board Certification (2012)
Pediatric Dermatology, Board Certification (2017)
Conditions & Treatments
Skin, Hair and Nails
Skin, Hair and Nails - Biopsies and Excisions
Transgender Health
Clinical Interests
My clinical interests include multidisciplinary care of adolescents and adults with polycystic ovarian syndrome (PCOS), transgender youth, procedural dermatology, vascular malformations, skin of color and global health. My background in Pediatrics and Dermatology allows me empathize with my patients so that they can feel comfortable in challenging clinical settings. I am trilingual (English, Spanish and French) and welcome our diverse patient population using the language of their choice. I practice medical and cosmetic dermatology. I perform laser hair removal for excess hair and diverse procedural modalities to treat acne scarring.

Care Philosophy
I strive to provide compassionate, personalized and high-quality care to all my patients with the ultimate goal of improving their quality of life.


Personal Interests
In my spare time, I enjoy spending time with my husband and two wonderful daughters, traveling and photography.
Volunteer Activities
I am involved in several health outreach projects in Central America through the Trinifio Project in Guatemala, and in South America as a member of the Peruvian American Medical Society.
Public Speaking
Yes
General Information
Medical Schools
:
MD, Universidad Peruana Cayetana Heredia - Lima, Peru (2006)
Residency Programs
:
University of Colorado, Dermatology (2016)
Cleveland Clinic, Chief Resident, Pediatrics (2012)
Fellowships
:
University of Colorado (Children's Hospital Colorado) Program, Pediatric Dermatology (2017)
Languages
:
English, Spanish, French
Department
:
Dermatology