David Khechoyan, MD
Associate Professor, Surgery-Plastic/Reconstructive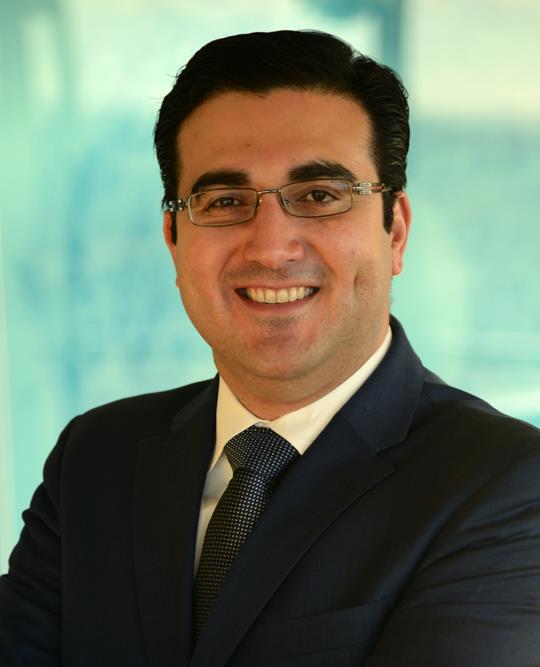 Medical School
:
MD, University of Washington School of Medicine (2005)
Undergraduate School
:
BS, Idaho State University (ID) (2001)
Internship
:
University of Washington Program (2006)
Residency
:
University of Washington Program, Chief Resident, Plastic Surgery (2011)
Fellowships
:
Hospital for Sick Children, Canada, Craniofacial Surgery (2012)
Languages
:
English
Department
:
Surgery-Plastic/Reconstructive
Professional Titles
Associate Professor of Surgery, Plastic & Reconstructive Surgery
Recognition & Awards
Alpha Omega Alpha Medical Honor Society, AOA (2014)
Best Clinical Research Presentation Award, University of Toronto Department of Surgery - The Hospital for Sick Children (2012)
The Hospital for Sick Children, Toronto, Ontario 2012 Annual Peri-operative Services Research Competition Presentation Title: "The Use of Pre-fabricated Templates in Cranial Vault Remodeling."
Graduation with Honors in Medicine, University of Washington School of Medicine (2005)
Exceptional Research Presentation in Hematology & Oncology, WSMRF - Western Student Medical Research Forum (2003)
Presentation Title: "Expression of Lineage-specific Developmental Genes in Pediatric CNS Tumors."
Research Interests
My primary research focus is on evaluating surgical outcomes in reconstruction for children born with craniosynostosis, cleft lip/palate, and other craniofacial conditions.
Teaching
Associate Professor of Surgery (2016)
School of Medicine, Surgery
I am actively involved in the education of medical students and surgical residents in the CU Department of Surgery. I also frequently lecture at the CU School of Dentistry to the dental students and orthodontic residents.
Publications
Johnson AC, Buchanan EP, Khechoyan DY. Wound infection: A review of qualitative and quantitative assessment modalities. J Plast Reconstr Aesthet Surg. 2022 Apr;75(4):1287-1296. PubMed PMID: 35216936
Mundra LS, Lowe KM, Khechoyan DY. Alveolar Bone Graft Timing in Patients With Cleft Lip & Palate. J Craniofac Surg. 2022 Jan-Feb 01;33(1):206-210. PubMed PMID: 34967522
Garg S, Khechoyan D, Kim EB, French B. Multilayered and Flap Closure Technique for Pediatric Spinal Deformity Surgery. J Am Acad Orthop Surg. 2019 Jul 15. [Epub ahead of print] PubMed PMID: 31335453
Liu MT, Khechoyan DY, Susarla SM, Skladman R, Birgfeld CB, Gruss JS, Lee A, Ellenbogen RG, Pet MA, Hopper RA. Evolution of Bandeau Shape, Orbital Morphology, and Craniofacial Twist after Fronto-Orbital Advancement for Isolated Unilateral Coronal Synostosis: A Case-Control Study of 2-Year Outcomes. Plast Reconstr Surg. 2019 Jun;143(6):1703-1711. PubMed PMID: 31136486
Nguyen PD, Khechoyan DY, Phillips JH, Forrest CR. Custom CAD/CAM implants for complex craniofacial reconstruction in children: Our experience based on 136 cases(?). J Plast Reconstr Aesthet Surg. 2018 Nov;71(11):1609-1617. PubMed PMID: 30220563
Specialty Information
Specialties
Plastic Surgery, Board Certification (2013, 2013)
American Board of Plastic Surgery, Board Certification (2013)
Conditions & Treatments
Surgery - Cleft Lip and Palate
Surgery
Surgery - Cranio-Maxillofacial Surgery
Surgery - Hand Surgery
Surgery - Orthognathic Surgery (Corrective Jaw Surgery)
Surgery - Plastic, Reconstructive and Aesthetic Surgery
Transgender Health
Clinical Interests
My many clinical interests comprise the full spectrum of Pediatric & Adult Plastic Surgery: Cleft Lip/Palate, Craniosynostosis, Craniofacial Surgery, Orthognathic Surgery, Facial Paralysis (Moebius Syndrome), Facial Trauma, Vascular Anomalies, and General Plastic and Reconstructive Surgery.

Care Philosophy
I strive to provide the highest quality and personal care for my patients that is grounded in the most up-to-date evidence and innovations in medicine. I strongly believe in treating each child in the context of the entire family and having both child and family as active participants in the decision-making and care.


Personal Interests
In my free time, I enjoy hiking and camping with my wife and three children and exploring beautiful Colorado.
Public Speaking
Yes
2016 Moebius Syndrome Awareness Day
General Information
Medical Schools
:
MD, University of Washington School of Medicine (2005)
Undergraduate Schools
:
BS, Idaho State University (ID) (2001)
Internships
:
University of Washington Program (2006)
Residency Programs
:
University of Washington Program, Chief Resident, Plastic Surgery (2011)
Fellowships
:
Hospital for Sick Children, Canada, Craniofacial Surgery (2012)
Languages
:
English
Department
:
Surgery-Plastic/Reconstructive