Ricka Messer, MD, PhD
Associate Professor, Pediatrics-Neurology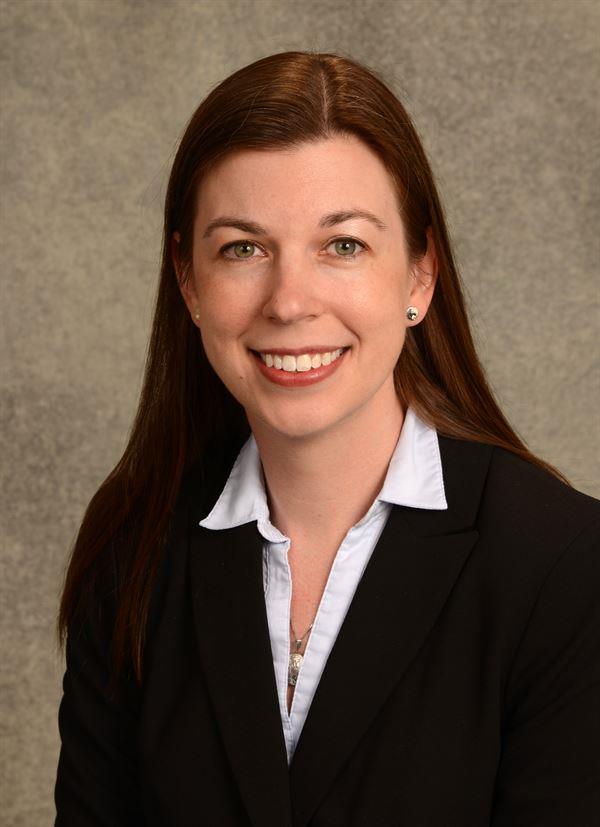 Medical School
:
MD, University of Connecticut School of Medicine (2010)
Graduate School
:
PhD, University of Connecticut Health Center (2010)
Undergraduate School
:
BA, University of Texas System (TX) (2002)
Internship
:
University of Connecticut Program (2012)
Residency
:
Johns Hopkins University Program, Chief Resident, Child Neurology (2015)
Languages
:
English
Department
:
Pediatrics-Neurology
Professional Titles
Director of the Pediatric Neurohospitalist Program
Medical Director of Clinical Informatics for Pediatric Neurology
Recognition & Awards
Century Award, Children's Hospital Colorado (2019)
Recognizes a staff member with five or fewer years of training who has made major contributions to improving child health through committee work, leadership and advocacy.
Golden Stethoscope Award, Foundations of Doctoring Medical Student Program (2018)
Subspecialty Preceptor
Paul G. Moe Excellence in Child Neurology Award, Pediatric Neurology Department (2017)
For Exemplary Service in Teaching, Teamwork, and Patient Care
Education Chief Resident, Johns Hopkins Neurology Residency (2014)

Excellence in Teaching, Gold Humanism Award (2012)

Teaching
Assistant Professor (2015)
School of Medicine, Neurology
Pediatric neurology
Assistant Professor (2015)
School of Medicine, Pediatrics
Pediatric neurology
Publications
Nash KB, Palaganas J, Abend NS, Hutchinson ML, Messer R, Moharir M, Piantino J, Press CA, Wells E. The State of Inpatient Child Neurology: A Survey of North American Academic Programs. Neurology. 2022 Sep 12. [Epub ahead of print] PubMed PMID: 36096689
Mazzio E, Mistry RD, Rosenthal S, Ser E, Jewell J, Martin J, Messer R, Straley M, Leonard J, Press CA. Neuroimaging for Pediatric Non-First-Time Seizures in the Emergency Department. Neurol Clin Pract. 2022 Jun;12(3):e7-e13. PubMed PMID: 35747538
Hutchinson ML, Nash KB, Abend NS, Moharir M, Wells E, Messer RD, Palaganas J, Helbig I, Wietstock SO, Suslovic W, Gonzalez AK, Kaufman MC, Press CA, Piantino J. Multicenter Study of the Impact of COVID-19 Shelter-In-Place on Tertiary Hospital-based Care for Pediatric Neurologic Disease. Neurohospitalist. 2022 Apr;12(2):218-226. PubMed PMID: 35414846
Nash KB, Abend NS, Hutchinson ML, Messer RD, Wells EM. Reader response: Child neurology in the 21st century: More than the sum of our RVUs. Neurology. 2020 Dec 15;95(24):1117-1118. PubMed PMID: 33318160
Messer R, Knupp KG. Infantile Spasms: Opportunities to Improve Care. Semin Neurol. 2020 Apr;40(2):236-245. PubMed PMID: 32143232
Practice Locations
UCHealth Neurosciences Center - Anschutz Medical Campus
1635 Aurora Ct
4th Floor
Aurora
, CO
80045
720-848-2080
Children's Hospital Colorado Anschutz Medical Campus
13123 East 16th Ave
Aurora
, CO
80045
720-777-1234
Hospital Affiliation
Children's Hospital Colorado
University of Colorado Hospital
Center Affiliations
Specialty Information
Specialties
Child Neurology (2015)
Pediatrics, Board Certification (2016)
Certified Epic Physician Builder, Certificate (2019)
Science of Clinical Investigation, Certificate (2014)
Conditions & Treatments
Brain and Nervous System - Traumatic and Acquired Brain Injuries
Brain and Nervous System - Stroke
Brain and Nervous System - Meningitis
Brain and Nervous System - Epilepsy
Brain and Nervous System - Multiple Sclerosis
Brain and Nervous System
Clinical Interests
Acquired brain injuries and acute neurologic issues, including inpatient neurology consults, post-hospitalization outpatient follow-up, and urgent outpatient evaluation. Abusive head trauma and infantile spasms are two areas of focus.

Care Philosophy
I strive to provide comprehensive care and up-to-date treatments for my patients, through their hospitalization and beyond. I also seek to be a compassionate resource for my patients and families.


General Information
Medical Schools
:
MD, University of Connecticut School of Medicine (2010)
Graduate Schools
:
PhD, University of Connecticut Health Center (2010)
Undergraduate Schools
:
BA, University of Texas System (TX) (2002)
Internships
:
University of Connecticut Program (2012)
Residency Programs
:
Johns Hopkins University Program, Chief Resident, Child Neurology (2015)
Languages
:
English
Department
:
Pediatrics-Neurology