Mihir Wagh, MD
Professor, Medicine-Gastroenterology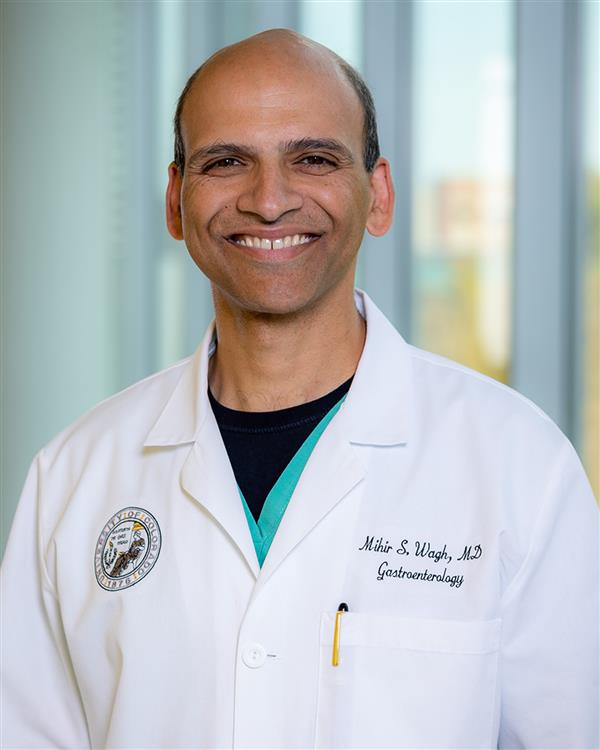 Fellowships
:
Brigham and Women's Hospital/Harvard Medical School Program, Gastroenterology
University of Chicago Program, Interventional Endoscopy - EUS
Indiana University School of Medicine Program, Interventional Endoscopy - ERCP
Department
:
Medicine-Gastroenterology
Professional Titles
Head, Endoscopic Surgery and Tissue Apposition
Research Interests
Dr. Wagh has written numerous scientific papers, reviews, editorials and book chapters. His recently published book "Gastrointestinal Interventional Endoscopy-Advanced Techniques" highlights newer cutting-edge endoscopic procedures in gastroenterology. He has been invited to perform interventional endoscopy at multiple national and international live endoscopy conferences and hands-on courses.
Publications
Qayed E, Sheth SG, Wagh MS. Response. Gastrointest Endosc. 2022 Jan;95(1):200. PubMed PMID: 34895618
Puli SR, Wagh MS, Forcione D, Gopakumar H. Learning curve for esophageal peroral endoscopic myotomy: a systematic review and meta-analysis. Endoscopy. 2022 Nov 24. [Epub ahead of print] PubMed PMID: 36049775
Gergen AK, Wagh MS, Menard-Katcher P, Pratap A. Efficacy of Combined Hiatal Hernia Repair and Transoral Incisionless Fundoplication for Giant Paraoesophageal Hernias: Technique and Early Results. Surg Laparosc Endosc Percutan Tech. 2022 Jun 1;32(3):404-408. PubMed PMID: 35648420
Swei E, Almuhaidb A, Sullivan S, Al-Shahrani A, D'Souza FR, Altayar O, Bell S, Maday R, Wagh MS, Mullady D, Bennett M, Early D, Kushnir V. Comparison of the Efficacy and Safety of the FDA-approved Intragastric Balloon Systems in a Clinical Setting. J Clin Gastroenterol. 2022 May 24. [Epub ahead of print] PubMed PMID: 35604348
Dacha S, Aihara H, Anand GS, Byrne KR, Chahal P, James T, Kowalski TE, Qayed E, Repaka A, Saadi M, Sheth SG, Taylor JR, Walsh CM, Williams RL, Wagh MS. Core curriculum for peroral endoscopic myotomy (POEM). Gastrointest Endosc. 2021 Jan 6. [Epub ahead of print] PubMed PMID: 33422284
Professional Memberships
American Society for Gastrointestinal Endoscopy (ASGE) Training Committee, Chair
University of Colorado Hospital Credentials Committee, Member
American College of Gastroenterology Practice Parameters Committee, Member
American Society for Gastrointestinal Endoscopy (ASGE) Advanced Endoscopy Committee, Member
American Society for Gastrointestinal Endoscopy (ASGE) Research Committee, Member
Specialty Information
Specialties
Gastroenterology, Board Certification
Conditions & Treatments
Digestive System - Therapeutic Endoscopy
Digestive System
Digestive System - Surgical Endoscopy
Digestive System - Gastroesophageal Reflux
Clinical Interests
Dr. Wagh specializes in pancreatobiliary endoscopy (ERCP and EUS) and flexible endoscopic surgery: Per-Oral Endoscopic Myotomy (POEM) for achalasia and spastic esophageal motility disorders, G-POEM for gastroparesis, endoscopic myotomy for Zenker's diverticulum, endoscopic resection (EMR/ESD), endoscopic suturing, bariatric endoscopy and endoscopic therapy for acid reflux.


General Information
Fellowships
:
Brigham and Women's Hospital/Harvard Medical School Program, Gastroenterology (0001)
University of Chicago Program, Interventional Endoscopy - EUS (0001)
Indiana University School of Medicine Program, Interventional Endoscopy - ERCP (0001)
Department
:
Medicine-Gastroenterology