Nathaniel Greene, PhD
Assistant Professor, Otolaryngology - Head and Neck Surgery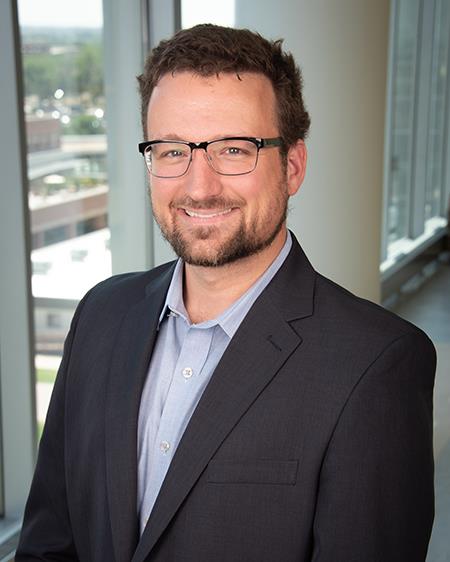 Graduate Schools
:
PhD, University of Rochester (2012)
MS, University of Rochester (2009)
Undergraduate School
:
BA, Wittenberg University (OH) (2004)
Languages
:
English
Department
:
Otolaryngology - Head and Neck Surgery
Professional Titles
Assistant Professor - Research
Recognition & Awards
Loan Repayment Program Recipient, NIH (2020)
T32 Postdoctoral Fellow, University of Colorado Otolaryngology Department (2015)
2013-2015
T32 Predoctoral Fellow, University of Rochester Otolaryngology Department (2012)
2010-2012
Research Interests
Dr. Greene's research focuses on the mechanics and physiology of the auditory system and hearing. His lab focuses on the effects of using hearing restoration devices, as well as the mechanisms of hearing loss during high level sound exposure. Studies on hearing restoration devices include investigating the causes of loss of residual acoustic hearing in cochlear implant patients, and transmission of sound via bone conduction. These devices often involve substantial surgical procedures that can cause injurious levels of inner ear stimulation. Likewise, normal use of these devices stimulate the inner ear with indirect, non-ossicular pathways, which can resulting in unexpected interactions and perceptions. Current studies are focusing on quantifying these effects, investigating their sources, and developing strategies to mitigate their negative effects.
Teaching
Informal mentoring to Graduate students (2017)
School of Medicine, Otolaryngology - Head and Neck Surgery
Department of Biomedical Engineering Senior Design Teaching Assistant (2009)
School of Medicine, Other
Supervised and motivated student groups throughout project design, development, building, and preparation for regulatory approval/marketing of medical devices.
Physiological Control Systems Teaching Assistant (2007)
School of Medicine, Other
Developed, prepared, and taught control systems labs. Assisted with teaching concepts and grading of homework.
Physics Department Tutor and Teaching Assistant (2003)
School of Medicine, Physiology & Biophysics
Tutor introductory physics students. Assist with preparations for class and laboratories.
Adjunct assistant professor (2018)
College of Liberal Arts and Sciences, University of Colorado - Boulder
SLHS 5674 - Signals and Systems in Audiology
Publications
Banakis Hartl RM, Greene NT. Measurement and Mitigation of Intracochlear Pressure Transients During Cochlear Implant Electrode Insertion. Otol Neurotol. 2022 Feb 1;43(2):174-182. PubMed PMID: 34753876
Boscoe EF, Banakis Hartl RM, Gubbels SP, Greene NT. Effects of Varying Laser Parameters During Laser Stapedotomy on Intracochlear Pressures. Otolaryngol Head Neck Surg. 2022 Jun 7;:1945998221104658. [Epub ahead of print] PubMed PMID: 35671134
Peacock J, Benson MA, Greene NT, Tollin DJ, Young BA. The acoustical effect of the neck frill of the frill-necked lizard (Chlamydosaurus kingii). J Acoust Soc Am. 2022 Jul;152(1):437. PubMed PMID: 35931550
McCullagh EA, Peacock J, Lucas A, Poleg S, Greene NT, Gaut A, Lagestee S, Zhang Y, Kaczmarek LK, Park TJ, Tollin DJ, Klug A. Auditory brainstem development of naked mole-rats (Heterocephalus glaber). Proc Biol Sci. 2022 Aug 10;289(1980):20220878. PubMed PMID: 35946148
Tasko SM, Deiters KK, Flamme GA, Smith MV, Murphy WJ, Jones HG, Greene NT, Ahroon WA. Effects of unilateral eye closure on middle ear muscle contractions. Hear Res. 2022 Oct;424:108594. PubMed PMID: 35964452
Specialty Information
Specialties
Certified Occupational Hearing Conservationist (CAOHC), Certificate (2016)
General Information
Graduate Schools
:
PhD, University of Rochester (2012)
MS, University of Rochester (2009)
Undergraduate Schools
:
BA, Wittenberg University (OH) (2004)
Languages
:
English
Department
:
Otolaryngology - Head and Neck Surgery