Yubin Miao, PhD
Professor, Radiology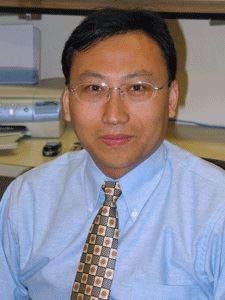 Graduate School
:
PhD, Beijing Normal University (1997)
Undergraduate School
:
BS, Beijing Normal University (1992)
Languages
:
English
Department
:
Radiology
Recognition & Awards
Distinguished Investigator Award, The Academy for Radiology & Biomedical Imaging Research (2019)
Innovation Award, STC.UNM (2014)
Top Newsmaker, New Mexico Business Weekly (2011)

Breast Cancer Research Program Award, Department of Defense (2008)

New Investigator Award, American Association of Colleges of Pharmacy (2007)

Research Interests
The research interests in Dr. Miao's laboratory focus on developing novel radiolabeled peptides for cancer (melanoma, breast and prostate cancers) diagnosis and treatment. Specifically, we are using radiolabeled peptides to target G protein-coupled receptors (GPCRs) that are over-expressed on cancer cells for cancer detection and therapy. Radiolabeled peptides are attractive probes for cancer imaging and therapy due to their specific nanomolar binding with the GPCRs on cancer cells. Radiolabeled peptides can selectively deliver diagnostic and therapeutic radionuclides to cancer cells through peptide-receptor interactions for imaging and therapy. Hence, malignant tumors can be detected non-invasively by imaging modalities (SPECT or PET) through the collection of photons generated from diagnostic radionuclides. Moreover, malignant tumors can be effectively treated by targeted radiation yielded from therapeutic radionuclides delivered by peptides.
Publications
Qiao Z, Xu J, Fisher DR, Gonzalez R, Miao, Y. Introduction of a polyethylene glycol linker improves uptake of 67Cu-NOTA-conjugated lactam-cyclized alpha-melanocyte-stimulating hormone peptide in melanoma. Cancers 2023,15 (10):2755.
Qiao Z, Xu J, Gonzalez R, Miao Y. Effects of Polyethylene Glycol and 8-Aminooctanoic Acid Linkers on Melanoma Uptake of [(99m)Tc]Tc-Tricarbonyl-NOTA-Conjugated Lactam-Cyclized a-MSH Peptides. Bioconjug Chem. 2023 May 17;34(5):934-940. PubMed PMID: 37140963
Xu J, Gallazzi F, Fisher DR, Gonzalez R, Miao Y. The Effect of Albumin-Binding Moiety on Tumor Targeting and Biodistribution Properties of (67)Ga-Labeled Albumin Binder-Conjugated Alpha-Melanocyte-Stimulating Hormone Peptides. Cancer Biother Radiopharm. 2022;37:47-55. PubMed PMID: 34762521
Qiao Z, Xu J, Gonzalez R, Miao Y. Novel Al(18)F-NOTA-Conjugated Lactam-Cyclized a-Melanocyte-Stimulating Hormone Peptides with Enhanced Melanoma Uptake. Bioconjug Chem. 2022 May 18;33(5):982-990. PubMed PMID: 35475603
Qiao Z, Xu J, Gonzalez R, Miao Y. Novel (64)Cu-Labeled NOTA-Conjugated Lactam-Cyclized Alpha-Melanocyte-Stimulating Hormone Peptides with Enhanced Tumor to Kidney Uptake Ratios. Mol Pharm. 2022 Jul 4;19(7):2535-2541. PubMed PMID: 35486894
Practice Locations
Center Affiliations

General Information
Graduate Schools
:
PhD, Beijing Normal University (1997)
Undergraduate Schools
:
BS, Beijing Normal University (1992)
Languages
:
English
Department
:
Radiology