Michael Kriss, MD
Associate Professor, Medicine-Gastroenterology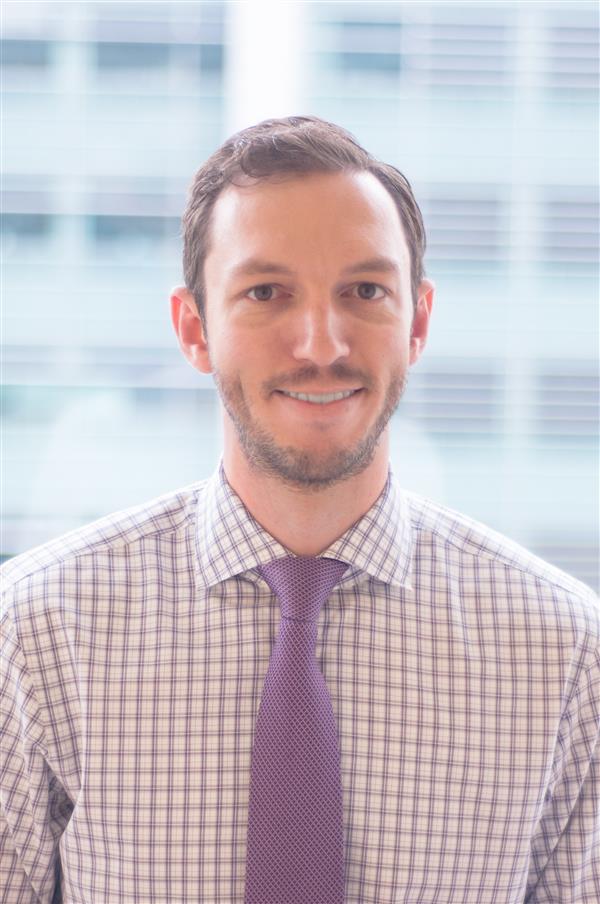 Medical School
:
MD, Tufts University School of Medicine (2008)
Undergraduate School
:
BA, Washington University in Saint Louis (MO) (2003)
Residency
:
McGaw Medical Center of Northwestern University Program, Chief Resident, Internal Medicine (2012)
Fellowships
:
University of Colorado, Gastroenterology (2015)
University of Colorado, Transplant Hepatology (2016)
Department
:
Medicine-Gastroenterology
Professional Titles
Assistant Professor of Medicine
Associate Program Director, Transplant Hepatology fellowship
UCHealth Transplant Physician Informaticist Champion
Research Interests
My research interests are focused on developing a better understanding of the immune system within the liver. My work focuses on understanding the effects of curing hepatitis C virus on the liver's immune system. In addition, we are studying how the liver responds to bacterial and viral infections to develop a better understanding of how these infections may exacerbate underlying chronic liver disease.
Publications
Kriss M, Biggins SW. Evaluation and selection of the liver transplant candidate: updates on a dynamic and evolving process. Curr Opin Organ Transplant. 2021 Feb 1;26(1):52-61. PubMed PMID: 33278150
Jackson WE, Kriss MS, Burton JR Jr, Nydam TL, Conzen KD, Pomposelli JJ, Pomfret EA. Reply to "Living liver donation in previous kidney donors: A single-center experience". Am J Transplant. 2021 Jan;21(1):435-437. PubMed PMID: 32558135
Attwell A, Han S, Kriss M. Endoscopic retrograde cholangiopancreatography and liver biopsy in the evaluation of elevated liver function tests after liver transplantation. World J Hepatol. 2021 Jan 27;13(1):132-143. PubMed PMID: 33584992
Kriss M, Te HS, Verna EC, VanWagner LB, Scott FI, Lai JC. National Early Career Transplant Hepatologist Survey: Compensation, Burnout, and Job Satisfaction. Hepatol Commun. 2021 Apr;5(4):701-712. PubMed PMID: 33860127
Pourmand K, Schiano TD, Motwani Y, Kriss M, Keefer L, Patel A. Burnout among Transplant Hepatologists in the United States. Liver Transpl. 2021 Nov 26. [Epub ahead of print] PubMed PMID: 34826182
Specialty Information
Specialties
Transplant Hepatology, Board Certification (2018)
Gastroenterology, Board Certification (2015)
Internal Medicine, Board Certification (2011)
Conditions & Treatments
Digestive System - Hepatology (Liver Disorders)
Digestive System
Digestive System - Colonoscopy
Surgery - Liver Transplant Surgery
Surgery
Surgery - Living Liver Donation
Clinical Interests
My clinical interests include providing care to patients with chronic liver disease including evaluation of patients for liver transplantation and providing post-transplant care. In addition, I perform endoscopy (upper GI endoscopy, colonoscopy) and liver biopsies.

Care Philosophy
I provide comprehensive care for liver diseases to my patients. This is done with a multidisciplinary team of hepatologists, surgeons, radiologists, and interventional radiologists to provide the highest quality of care. I focus on patient education and communication with the goal that my patients develop a deep understanding of their medical condition. I also strive to provide personalized care specific to each individual patient's care goals.


General Information
Medical Schools
:
MD, Tufts University School of Medicine (2008)
Undergraduate Schools
:
BA, Washington University in Saint Louis (MO) (2003)
Residency Programs
:
McGaw Medical Center of Northwestern University Program, Chief Resident, Internal Medicine (2012)
Fellowships
:
University of Colorado, Gastroenterology (2015)
University of Colorado, Transplant Hepatology (2016)
Department
:
Medicine-Gastroenterology