Michael Kriss, MD
Associate Professor, Medicine-Gastroenterology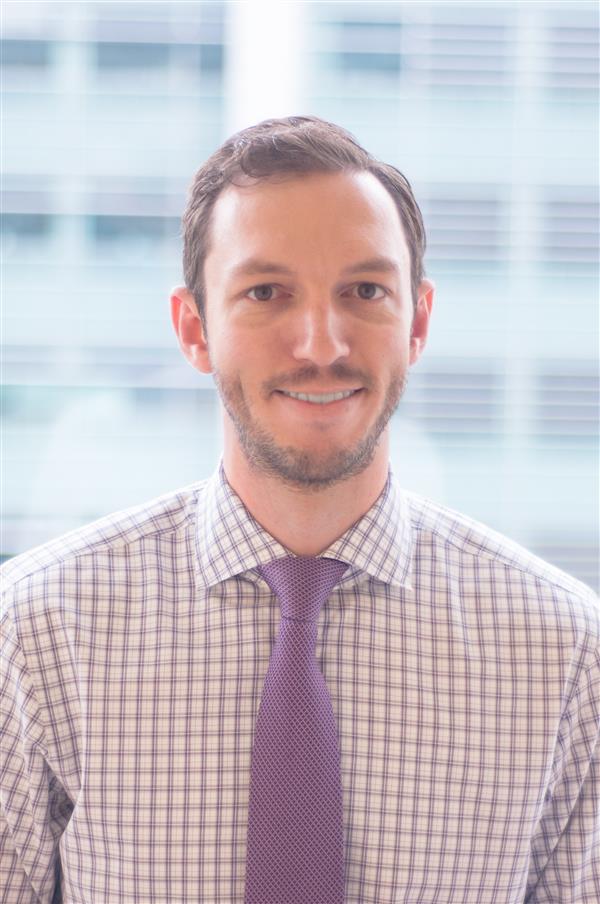 Medical School
:
MD, Tufts University School of Medicine (2008)
Undergraduate School
:
BA, Washington University in Saint Louis (MO) (2003)
Residency
:
McGaw Medical Center of Northwestern University Program, Chief Resident, Internal Medicine (2012)
Fellowships
:
University of Colorado, Gastroenterology (2015)
University of Colorado, Transplant Hepatology (2016)
Department
:
Medicine-Gastroenterology
Professional Titles
Assistant Professor of Medicine
Associate Program Director, Transplant Hepatology fellowship
UCHealth Transplant Physician Informaticist Champion
Research Interests
My research interests are focused on developing a better understanding of the immune system within the liver. My work focuses on understanding the effects of curing hepatitis C virus on the liver's immune system. In addition, we are studying how the liver responds to bacterial and viral infections to develop a better understanding of how these infections may exacerbate underlying chronic liver disease.
Publications
Jackson WE, Kaplan A, Saben JL, Kriss MS, Cisek J, Samstein B, Liapakis A, Pillai AA, Brown RS Jr, Pomfret EA. Practice patterns of the medical evaluation of living liver donors in the United States. Liver Transpl. 2022 Sep 16. [Epub ahead of print] PubMed PMID: 36111606
Mowry C, Kohli R, Bhat C, Truesdale A, Menard-Katcher P, Scallon A, Kriss M. Gastroesophageal Balloon Tamponade Simulation Training with 3D Printed Model Improves Knowledge, Skill, and Confidence. Dig Dis Sci. 2022 Aug 22. [Epub ahead of print] PubMed PMID: 35989387
Lim N, Kwong AJ, Jafri SM, Jesse MT, Kriss M, Nair K, Pillai A, Shingina A, Tang Q, Desai AP. Heterogeneity in Center Practices in Liver Transplantation for Alcohol-Associated Liver Disease in the United States. Am J Gastroenterol. 2022 Sep 1;117(9):1530-1535. PubMed PMID: 35916539
Izzy M, Fortune BE, Serper M, Bhave N, deLemos A, Gallegos-Orozco JF, Guerrero-Miranda C, Hall S, Harinstein ME, Karas MG, Kriss M, Lim N, Palardy M, Sawinski D, Schonfeld E, Seetharam A, Sharma P, Tallaj J, Dadhania DM, VanWagner LB. Management of cardiac diseases in liver transplant recipients: Comprehensive review and multidisciplinary practice-based recommendations. Am J Transplant. 2022 Dec;22(12):2740-2758. PubMed PMID: 35359027
Sundaram V, Lindenmeyer CC, Shetty K, Rahimi RS, Al-Attar A, Flocco G, Fortune BE, Gong C, Challa S, Maddur H, Jou JH, Kriss M, Stein LL, Xiao AH, Vyhmeister RH, Green EW, Campbell B, Piscitello AJ, Cranford W, Levitsky J, Karvellas CJ. Patients With Acute-on-Chronic Liver Failure Have Greater Healthcare Resource Utilization After Liver Transplantation. Clin Gastroenterol Hepatol. 2022 Mar 23. [Epub ahead of print] PubMed PMID: 35337982
Specialty Information
Specialties
Transplant Hepatology, Board Certification (2018)
Gastroenterology, Board Certification (2015)
Internal Medicine, Board Certification (2011)
Conditions & Treatments
Digestive System - Hepatology (Liver Disorders)
Digestive System
Digestive System - Colonoscopy
Surgery - Liver Transplant Surgery
Surgery
Surgery - Living Liver Donation
Clinical Interests
My clinical interests include providing care to patients with chronic liver disease including evaluation of patients for liver transplantation and providing post-transplant care. In addition, I perform endoscopy (upper GI endoscopy, colonoscopy) and liver biopsies.

Care Philosophy
I provide comprehensive care for liver diseases to my patients. This is done with a multidisciplinary team of hepatologists, surgeons, radiologists, and interventional radiologists to provide the highest quality of care. I focus on patient education and communication with the goal that my patients develop a deep understanding of their medical condition. I also strive to provide personalized care specific to each individual patient's care goals.


General Information
Medical Schools
:
MD, Tufts University School of Medicine (2008)
Undergraduate Schools
:
BA, Washington University in Saint Louis (MO) (2003)
Residency Programs
:
McGaw Medical Center of Northwestern University Program, Chief Resident, Internal Medicine (2012)
Fellowships
:
University of Colorado, Gastroenterology (2015)
University of Colorado, Transplant Hepatology (2016)
Department
:
Medicine-Gastroenterology