Lavanya Kondapalli, MD
Associate Professor, Medicine-Cardiology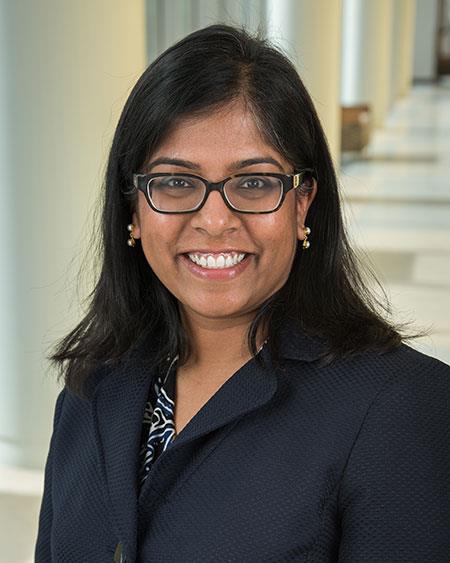 Medical School
:
MD, University of Chicago Division of the Biological Sciences The Pritzker School of Medicine (2006)
Undergraduate School
:
AB, Harvard University (MA) (2002)
Internship
:
University of Chicago Program (2007)
Residency
:
University of Chicago Program, Internal Medicine (2009)
Fellowships
:
Hospital of the University of Pennsylvania, Cardiovascular Disease (2014)
Languages
:
English
Department
:
Medicine-Cardiology
Professional Titles
Director of Cardio-Oncology
Publications
Gupta P, Groves D, Carroll J, Kamdar M, Kondapalli L. "Complete heart block as an initial presentation of lymphoma," American College of Cardiology annual meeting 2022.
Kondapalli L, Hsia J, Miller R, Flaig TW, Bonaca MP. Burden of Cardiovascular Disease in Immune Checkpoint Inhibitor-Treated Patients: Reconciling Adjudicated and Coded Outcomes. JACC CardioOncol. 2022 Dec;4(5):649-656. PubMed PMID: 36636437
Lenneman C, Harrison D, Davis SL, Kondapalli L. Current Practice in Carcinoid Heart Disease and Burgeoning Opportunities. Curr Treat Options Oncol. 2022 Dec;23(12):1793-1803. PubMed PMID: 36417147
Kondapalli L, Arora G, Hawi R, Andrikopoulou E, Estes C, Patel N, Lenneman CG. Innovations in Cardio-oncology Resulting from the COVID-19 Pandemic. Curr Treat Options Oncol. 2022 Sep;23(9):1288-1302. PubMed PMID: 35969312
Schreiber AR, Kagihara J, Eguchi M, Kabos P, Fisher CM, Meyer E, Molina E, Kondapalli L, Bradley CJ, Diamond JR. Evaluating anthracycline? ?taxane versus taxane-based chemotherapy in older women with node-negative triple-negative breast cancer: a SEER-Medicare study. Breast Cancer Res Treat. 2022 Jan;191(2):389-399. PubMed PMID: 34705147
Specialty Information
Specialties
Internal Medicine, Board Certification (2009)
Cardiovascular Disease, Board Certification (2012)
Adult Echocardiography, Board Certification (2013)
Conditions & Treatments
Heart and Circulation - Coronary Disease
Heart and Circulation - Heart Diseases - Prevention
Heart and Circulation - Cardiomyopathy
Heart and Circulation - Heart Valve Diseases
Heart and Circulation - High Blood Pressure
Heart and Circulation
Heart and Circulation - Cardio-oncology
Clinical Interests
I am a cardiologist who specializes in managing the cardiac complications of cancer treatment and also in the long-term heart health of survivors of childhood and adult cancer.


General Information
Medical Schools
:
MD, University of Chicago Division of the Biological Sciences The Pritzker School of Medicine (2006)
Undergraduate Schools
:
AB, Harvard University (MA) (2002)
Internships
:
University of Chicago Program (2007)
Residency Programs
:
University of Chicago Program, Internal Medicine (2009)
Fellowships
:
Hospital of the University of Pennsylvania, Cardiovascular Disease (2014)
Languages
:
English
Department
:
Medicine-Cardiology