Kathryn Chatfield, MD
Associate Professor, Pediatrics-Cardiology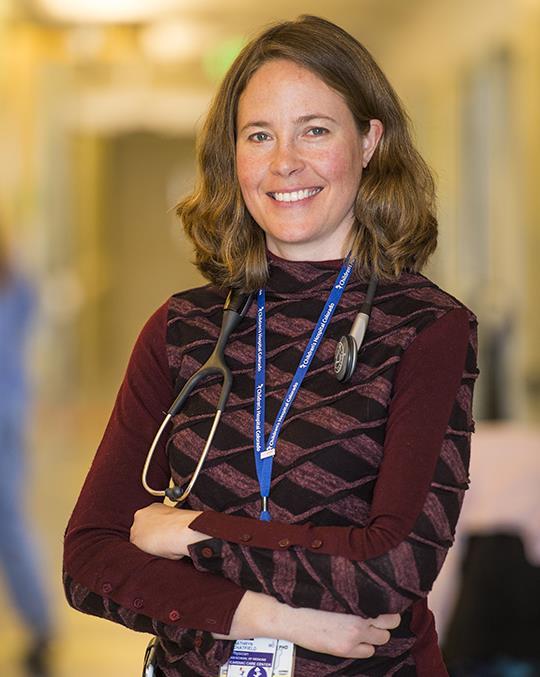 Medical School
:
MD, Dartmouth Medical School (2006)
Graduate School
:
PhD, Dartmouth College (2003)
Undergraduate School
:
BA, Middlebury College (VT) (1996)
Residencies
:
University of Pennsylvania/Children's Hospital of Philadelphia Program, Pediatrics (2010)
University of Pennsylvania/Children's Hospital of Philadelphia Program, Clinical Genetics and Genomics (MD) (2010)
Fellowships
:
University of Colorado (Children's Hospital Colorado) Program, Pediatric Cardiology (2013)
Languages
:
English
Department
:
Pediatrics-Cardiology
Professional Titles
Associate Professor of Pediatrics
Director, Cardiac Genetics Clinic, Children's Hospital Colorado
Recognition & Awards
Top Doctor in Denver, 5280 Magazine (2021)
For more than 25 years, 5280 has asked physicians in the Denver area whom they would trust to treat themselves or a loved one. Dr. Chatfield was voted a Top Doctor among 340 other doctors—in 100 specialties—nominated by their peers in 2021.
Family Experience 5 Star Excellence Award, Children's Hospital Colorado (2020)
5 Star Rating by patients and Families seen in the Cardiac Genetics Clinic at Children's Hospital Colorado, 2017-2020
Young Author Achievement Award, JACC Basic to Translational Science (2019)
Award for manuscript entitled: "Elamipretide Improves Mitochondrial Function in the Failing Human Heart"
Publications
Chatfield KC, Sparagna GC, Specht KS, Whitcomb LA, Omar AK, Miyamoto SD, Wolfe LM, Chicco AJ. Long-chain fatty acid oxidation and respiratory complex I deficiencies distinguish Barth Syndrome from idiopathic pediatric cardiomyopathy. J Inherit Metab Dis. 2021 Nov 25. [Epub ahead of print] PubMed PMID: 34821394
Ahimaz P, Sabatello M, Qian M, Wang A, Miller EM, Parrott A, Lal AK, Chatfield KC, Rossano JW, Ware SM, Parent JJ, Kantor P, Yue L, Wynn J, Lee TM, Addonizio LJ, Appelbaum PS, Chung WK. Impact of Genetic Testing for Cardiomyopathy on Emotional Well-Being and Family Dynamics: A Study of Parents and Adolescents. Circ Genom Precis Med. 2021 Aug;14(4):e003189. PubMed PMID: 34255550
Bell JM, Considine EM, McCallen LM, Chatfield KC. The Prevalence of Noonan Spectrum Disorders in Pediatric Patients with Pulmonary Valve Stenosis. J Pediatr. 2021 Jul;234:134-141.e5. PubMed PMID: 33794220
Singh I, Duca LM, Kao D, Chatfield KC, Khanna AD. Outcomes in hospitalisations of women with Turner syndrome compared to women without Turner syndrome. Cardiol Young. 2021 Oct;31(10):1667-1674. PubMed PMID: 33736722
Mostovoy Y, Yilmaz F, Chow SK, Chu C, Lin C, Geiger EA, Meeks NJL, Chatfield KC, Coughlin CR, Surti U, Kwok PY, Shaikh TH. Genomic regions associated with microdeletion/microduplication syndromes exhibit extreme diversity of structural variation. Genetics. 2021 Feb 9;217(2). PubMed PMID: 33724415
Specialty Information
Specialties
Pediatric Cardiology, Board Certification
Pediatrics, Board Certification
Clinical Genetics and Genomics (MD), Board Certification
Conditions & Treatments
Genetic Conditions and Testing
Heart and Circulation - Aneurysms
Heart and Circulation
Heart and Circulation - Cardiomyopathy
Heart and Circulation - Circulatory Disorders
Heart and Circulation - Congenital Heart Disease
Heart and Circulation - Heart Failure
Heart and Circulation - Vascular Malformations
Heart and Circulation - Heart Valve Diseases
Clinical Interests
Noonan Syndrome, CFC, Costello (RASopathy syndromes), Vascular and Lymphatic Anomalies, Hereditary Hemorrhagic Telangiectasia (HHT, or Osler-Weber-Rendu syndrome). I also specialise in management of connective tissue disorders: Marfan syndrome, Loeys Dietz syndrome, Vascular-type Ehlers Danlos syndrome, Familial aortic aneurysm and dissection syndromes, Turner syndrome, Williams syndrome, Metabolic cardiomyopathies, familial cardiomyopathy, and familial congenital heart disease.

Care Philosophy
I provide specialized care of individuals with genetic forms of cardiovascular disease. As a Clinical Geneticist and Pediatric cardiologist, I am in a unique position to diagnose the underlying etiologies of congenital heart disease, cardiomyopathies and aortopathy in children and adolescents. I treat many children with these conditions as their cardiologist; I also serve as a resource and genetics consultant to pediatric cardiologists within our practice and in the greater Rocky Mountain region.


General Information
Medical Schools
:
MD, Dartmouth Medical School (2006)
Graduate Schools
:
PhD, Dartmouth College (2003)
Undergraduate Schools
:
BA, Middlebury College (VT) (1996)
Residency Programs
:
University of Pennsylvania/Children's Hospital of Philadelphia Program, Pediatrics (2010)
University of Pennsylvania/Children's Hospital of Philadelphia Program, Clinical Genetics and Genomics (MD) (2010)
Fellowships
:
University of Colorado (Children's Hospital Colorado) Program, Pediatric Cardiology (2013)
Languages
:
English
Department
:
Pediatrics-Cardiology