Sana Karam, MD, PhD
Associate Professor, Radiation Oncology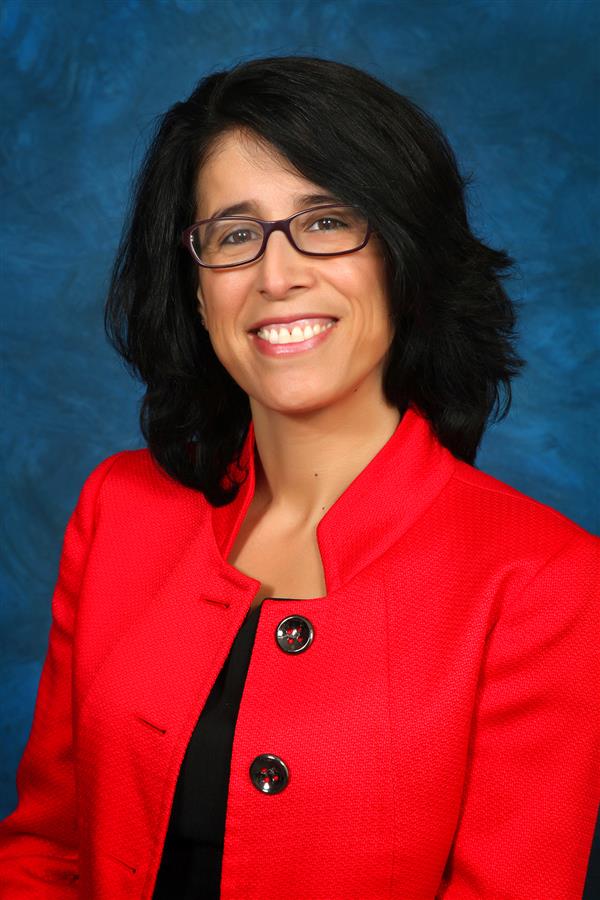 Medical School
:
MD, Georgetown University School of Medicine
Graduate Schools
:
MS, University of Maryland Baltimore
PhD, University of Washington
Undergraduate School
:
BA/BS, American University of Beirut
Internship
:
Georgetown University Hospital/Washington Hospital Center Program
Residency
:
Georgetown University Hospital Program, Chief Resident, Radiation Oncology
Languages
:
English
Department
:
Radiation Oncology
Professional Titles
Vice Chair of Translational Research
Marsico Endowed Chair in Head and Neck Cancer
Recognition & Awards
Educator of The Year Award, ARRO (2020)
National award for recognition by the Association of Residents in Radiation Oncology as a member of the Program's Faculty for excellence in teaching.
Research Interests
Twitter @KaramLab https://medschool.cuanschutz.edu/radiation-oncology/research/karam-lab
Teaching
Associate Professor (2013)
School of Medicine, Radiation Oncology
Head and Neck Cancer, Pancreatic Cancer, Brain Cancer, Cancer Biology, Immunotherapy, Resistance to therapy, Re-irradiation, Clinical trials
Vice Chair of Translational Research (2019)
School of Medicine, Radiation Oncology
Marsico Endowed Chair in Head and Neck Cancer (2021)
School of Medicine, Radiation Oncology
Publications
Darragh LB, Karam SD. Amateur antigen-presenting cells in the tumor microenvironment. Mol Carcinog. 2022 Feb;61(2):153-164. PubMed PMID: 34570920
Karam SD, Anderson CM, Ma D, Chua MLK, Kimple RJ. Immunotherapy in Head and Neck Cancer-Ready for Prime Time or More Research Needed?. Int J Radiat Oncol Biol Phys. 2021 Mar 1;109(3):647-650. PubMed PMID: 33516431
Gadwa J, Bickett TE, Darragh LB, Knitz MW, Bhatia S, Piper M, Van Court B, Bhuvane S, Nguyen D, Nangia V, Kleczko EK, Nemenoff RA, Karam SD. Complement C3a and C5a receptor blockade modulates regulatory T cell conversion in head and neck cancer. J Immunother Cancer. 2021 Mar;9(3). PubMed PMID: 33789881
Mirian C, Gerds TA, Pedersen MM, de Ridder M, Balm A, Mattavelli D, Piazza C, Jensen LR, Balasubramanian D, Subramaniam N, Dokhe Y, Thankappan K, Iyer S, Karam SD, Wiegand S, Feeley L, Milross C, Gao K, Palme CE, Low TH, Gupta R, Freudlsperger C, Moratin J, Sheahan P, Clark J, Ovesen T. Metrics of pN-staging in oral squamous cell carcinoma: An analysis of 1,905 patients. Eur J Cancer. 2021 Jun;150:33-41. PubMed PMID: 33887515
Morgan RL, Eguchi MM, McDermott J, Mueller AC, Amini A, Goddard JA, Trivedi PS, Karam SD. Comparative effectiveness of posttreatment imaging modalities for Medicare patients with advanced head and neck cancer. Cancer. 2021 Feb 15;127(4):535-543. PubMed PMID: 33119176
Specialty Information
Specialties
Radiation Oncology, Board Certification
Conditions & Treatments
Cancers - Head and Neck Cancer
Cancers
Cancers - Pancreatic Cancer
Clinical Interests
I am interested in providing holistic care for our patients and their families. I strive to listen and inform so my patients can make the decision and steer their treatment course. I specialize in head and neck cancer and pancreatic cancer with special emphasis on immunotherapy. I run clinical trials aimed at combining Radiation with immunotherapy and targeted therapeutics to improve outcomes and reduce the side effects.

Care Philosophy
I strive to provide the best care for my patients. I believe in treating the person as a whole, taking every aspect of a patient's body and health into consideration during diagnosis and treatment.


General Information
Medical Schools
:
MD, Georgetown University School of Medicine (0001)
Graduate Schools
:
MS, University of Maryland Baltimore (0001)
PhD, University of Washington (0001)
Undergraduate Schools
:
BA/BS, American University of Beirut (0001)
Internships
:
Georgetown University Hospital/Washington Hospital Center Program (0001)
Residency Programs
:
Georgetown University Hospital Program, Chief Resident, Radiation Oncology (0001)
Languages
:
English
Department
:
Radiation Oncology