G. Todd Alonso, MD
Associate Professor, Pediatrics-Barbara Davis Center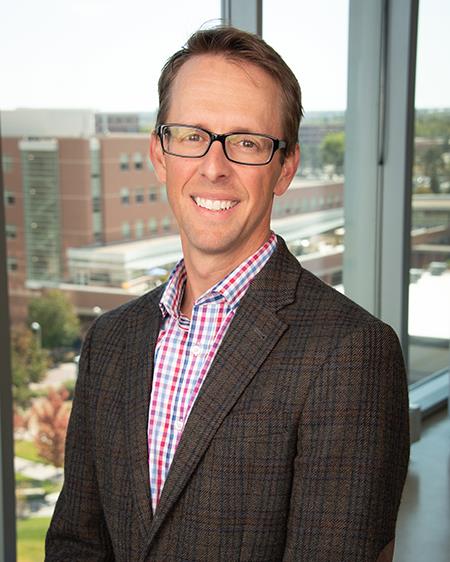 Download CV
Medical School
:
MD, University of Texas Medical School at Houston (2006)
Undergraduate School
:
BS, Texas Christian University (TX) (2001)
Residency
:
Baylor College of Medicine Program, Pediatrics (2009)
Fellowships
:
Children's Medical Center of Dallas/University of Texas Southwestern Medical School Program, Pediatric Endocrinology (2013)
Languages
:
English, Spanish
Department
:
Pediatrics-Barbara Davis Center
Professional Titles
Associate Professor
Medical Director
Recognition & Awards
Member, Alpha Omega Alpha Honor Society (2005)
The University of Texas Houston Medical School
Teaching
Director of Education, Barbara Davis Center (2013)
School of Medicine, Pediatrics
Education of residents and medical students rotating through the diabetes service.
Publications
Birkebaek NH, Kamrath C, Grimsmann JM, Aakesson K, Cherubini V, Dovc K, de Beaufort C, Alonso GT, Gregory JW, White M, Skrivarhaug T, Sumnik Z, Jefferies C, Hörtenhuber T, Haynes A, De Bock M, Svensson J, Warner JT, Gani O, Gesuita R, Schiaffini R, Hanas R, Rewers A, Eckert AJ, Holl RW, Cinek O. Impact of the COVID-19 pandemic on long-term trends in the prevalence of diabetic ketoacidosis at diagnosis of paediatric type 1 diabetes: an international multicentre study based on data from 13 national diabetes registries. Lancet Diabetes Endocrinol. 2022 Oct 3. [Epub ahead of print] PubMed PMID: 36202118
Mann EA, Rompicherla S, Gallagher MP, Alonso GT, Fogel NR, Simmons J, Wood JR, Wong JC, Noor N, Gomez P, Daniels M, Ebekozien O. Comorbidities increase COVID-19 hospitalization in young people with type 1 diabetes. Pediatr Diabetes. 2022 Nov;23(7):968-975. PubMed PMID: 36054578
Lavik AR, Ebekozien O, Noor N, Alonso GT, Polsky S, Blackman SM, Chen J, Corathers SD, Demeterco-Berggren C, Gallagher MP, Greenfield M, Garrity A, Rompicherla S, Rapaport R, Yayah Jones NH. Trends in Type 1 Diabetic Ketoacidosis During COVID-19 Surges at 7 US Centers: Highest Burden on non-Hispanic Black Patients. J Clin Endocrinol Metab. 2022 Jun 16;107(7):1948-1955. PubMed PMID: 35380700
Sawyer A, Sobczak M, Forlenza GP, Alonso GT. Glycemic Control in Relation to Technology Use in a Single-Center Cohort of Children with Type 1 Diabetes. Diabetes Technol Ther. 2022 Jun;24(6):409-415. PubMed PMID: 35099306
Champakanath A, Akturk HK, Alonso GT, Snell-Bergeon JK, Shah VN. Continuous Glucose Monitoring Initiation Within First Year of Type 1 Diabetes Diagnosis Is Associated With Improved Glycemic Outcomes: 7-Year Follow-Up Study. Diabetes Care. 2022 Mar 1;45(3):750-753. PubMed PMID: 35018417
Specialty Information
Specialties
Pediatrics, Board Certification (2010)
Pediatric Endocrinology
Conditions & Treatments
Child and Teen Health - Juvenile Diabetes
Child and Teen Health
Clinical Interests
My interests include caring for children and adolescents with endocrinologic illnesses, with a primary focus on type I diabetes mellitus.

Care Philosophy
I enjoy playing a role on a multidisciplinary team, aiming to provide excellent medical care, education, and support to patients and their families.


Personal Interests
In my spare time, I enjoy family activities with my four boys.

Volunteer Activities
American Diabetes Association, Camp Colorado


General Information
Medical Schools
:
MD, University of Texas Medical School at Houston (2006)
Undergraduate Schools
:
BS, Texas Christian University (TX) (2001)
Residency Programs
:
Baylor College of Medicine Program, Pediatrics (2009)
Fellowships
:
Children's Medical Center of Dallas/University of Texas Southwestern Medical School Program, Pediatric Endocrinology (2013)
Download CV
Languages
:
English, Spanish
Department
:
Pediatrics-Barbara Davis Center