Elizabeth Kessler, MD
Associate Professor, Medicine-Medical Oncology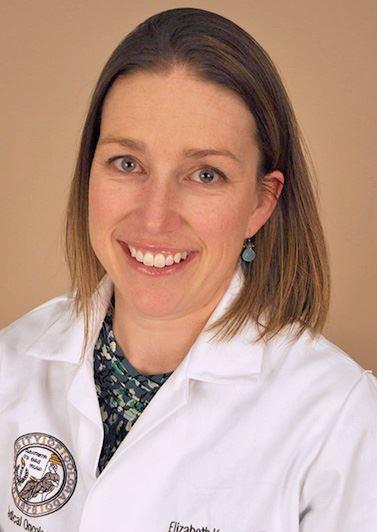 Medical School
:
MD, New York Medical College (2006)
Undergraduate School
:
BS, University of Colorado - Boulder (CO) (2000)
Residency
:
University of Colorado (University Hospital) Program, Internal Medicine (2010)
Fellowships
:
University of Colorado, Hematology and Oncology (2013)
Languages
:
English
Department
:
Medicine-Medical Oncology
Professional Titles
Associate Professor of Medical Oncology
Recognition & Awards
American Cancer Society Clinician Scientist Development Award, ACS (2020)
American Society of Clinical Oncology Young Investigator Award, ASCO (2013)
Hartford Scholar, The Hartford Foundation (2013)
Research Interests
My research mainly focuses on - improving the treatment options available to patients with advanced genitourinary cancers - delivering goal-concordant care to all older adults facing advanced cancer. - designing clinical trials and delivering care in a manner that increases the inclusion of older adults
Publications
Lum HD, Ressalam J, Kini V, Kessler ER, DeCamp M, Kutner JS, Campbell EG. Use and Influence of Medical Aid in Dying Service on Physician Experiences. J Palliat Med. 2023 Jan;26(1):110-113. PubMed PMID: 36409540
Campbell EG, Kini V, Ressalam J, Mosley BS, Bolcic-Jankovic D, Lum HD, Kessler ER, DeCamp M. Physicians' Attitudes and Experiences with Medical Aid in Dying in Colorado: a "Hidden Population" Survey. J Gen Intern Med. 2022 Jan 11. [Epub ahead of print] PubMed PMID: 35018562
Bourlon MT, Verduzco-Aguirre H, Molina E, Meyer E, Kessler E, Kim SP, Spiess PE, Flaig T. Patterns of Treatment and Outcomes in Older Men With Penile Cancer: A SEER Dataset Analysis. Front Oncol. 2022;12:926692. PubMed PMID: 35847850
Motzer RJ, Powles T, Burotto M, Escudier B, Bourlon MT, Shah AY, Suárez C, Hamzaj A, Porta C, Hocking CM, Kessler ER, Gurney H, Tomita Y, Bedke J, Zhang J, Simsek B, Scheffold C, Apolo AB, Choueiri TK. Nivolumab plus cabozantinib versus sunitinib in first-line treatment for advanced renal cell carcinoma (CheckMate 9ER): long-term follow-up results from an open-label, randomised, phase 3 trial. Lancet Oncol. 2022 Jul;23(7):888-898. PubMed PMID: 35688173
Kini V, Mosley B, Ressalam J, Bolcic-Jankovic D, Lum HD, Kessler ER, DeCamp M, Campbell EG. A novel methodology to identify and survey physicians participating in medical aid-in-dying. Sci Rep. 2022 Apr 11;12(1):6056. PubMed PMID: 35410431
Practice Locations
University of Colorado Cancer Center - Anschutz Medical Campus
1665 Aurora Ct
Aurora
, CO
80045
720-848-0300
UCHealth Tony Grampsas Urologic Cancer Care Clinic - Anschutz Medical Campus
1665 Aurora Ct
1st Floor
Aurora
, CO
80045
720-848-0170
Hospital Affiliation
University of Colorado Hospital
Center Affiliations
Specialty Information
Specialties
Internal Medicine, Board Certification (2009)
Medical Oncology, Board Certification (2013)
Hematology and Oncology
Conditions & Treatments
Cancers - Bladder Cancer
Cancers - Prostate Cancer
Cancers - Kidney Cancer
Cancers - Testicular Cancer
Cancers - Urologic Cancer
Cancers
Care Philosophy
I am interested in Genitourinary Cancers (Prostate, Bladder, Testicular and Kidney Cancers). We strive to provide patient-focused, personalized, multi-disciplinary care for genitourinary (GU) cancers. Our specialized providers in Medical Oncology (chemotherapy and targeted therapies), Urologic Oncology, Radiation Oncology, Pathology, Molecular Pathology, Radiology, Interventional Radiology, Nuclear Medicine, Nutrition, and Integrative Medicine work together to achieve the best outcomes for our patients. We have weekly GU cancer tumor boards, where our specialists come together to discuss patients and patient care.


General Information
Medical Schools
:
MD, New York Medical College (2006)
Undergraduate Schools
:
BS, University of Colorado - Boulder (CO) (2000)
Residency Programs
:
University of Colorado (University Hospital) Program, Internal Medicine (2010)
Fellowships
:
University of Colorado, Hematology and Oncology (2013)
Languages
:
English
Department
:
Medicine-Medical Oncology