Adam Green, MD
Associate Professor, Pediatrics-Heme/Onc and Bone Marrow Transplantation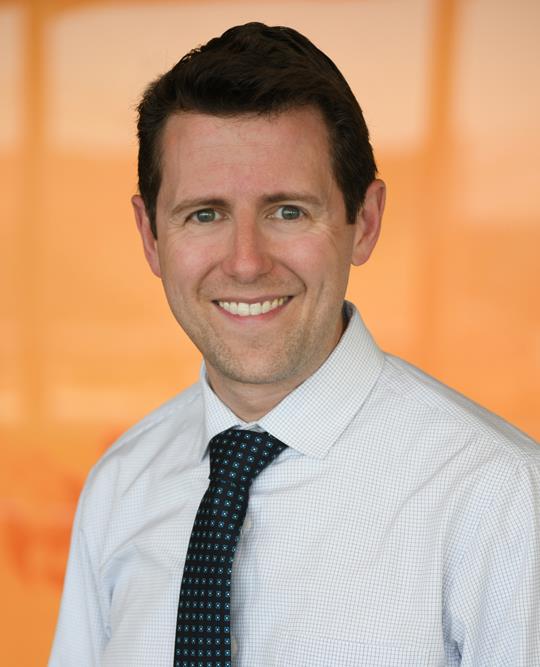 Medical School
:
MD, New York University School of Medicine (2006)
Undergraduate School
:
BA, Dartmouth College (NH) (2002)
Internship
:
University of Colorado (Children's Hospital Colorado) Program (2007)
Residencies
:
University of Colorado (Children's Hospital Colorado) Program, Chief Resident, Pediatrics (2010)
University of Colorado (Children's Hospital Colorado) Program, Pediatrics (2009)
Fellowships
:
Dana-Farber Cancer Institute/Boston Children's Hospital/Harvard Medical School Program, Pediatric Hematology / Oncology (2013)
Languages
:
English, Spanish
Department
:
Pediatrics-Heme/Onc and Bone Marrow Transplantation
Recognition & Awards
Young Investigator Award, American Society of Pediatric Hematology-Oncology (2017)
Awarded to two pediatric hematology-oncology investigators in the United States each year for early career research accomplishment
Research Interests
My research focuses on a specific type of cancer called high-grade glioma, an aggressive brain tumor affecting both children and adults. We focus especially on two pediatric subtypes called diffuse intrinsic pontine glioma and pediatric glioblastoma. I work in the lab to find new treatments for these tumors; we then study the treatments in laboratory models of the tumors, including mouse models, and then bring the treatments most likely to be successful to clinical trials in children.
Teaching
Assistant Professor (2016)
School of Medicine, Pediatrics
Publications
Goulding D, Arguinchona L, Anderson-Mellies A, Mikkelsen M, Eguchi M, Marinoff H, Zahedi S, Ribeiro KB, Cockburn M, Rodriguez Galindo C, Green AL. Sociodemographic Disparities in Presentation and Survival of Pediatric Bone Cancers. J Pediatr Hematol Oncol. 2022 Aug 26. [Epub ahead of print] PubMed PMID: 36044295
Milgrom SA, Koo J, Foreman N, Liu AK, Campbell K, Dorris K, Green AL, Dahl N, Donson AM, Vibhakar R, Levy JMM. Radiation Therapy for Young Children Treated With High-Dose Chemotherapy and Autologous Stem Cell Transplant for Primary Brain Tumors. Adv Radiat Oncol. 2022 Jul-Aug;7(4):100945. PubMed PMID: 35814855
Greer HR, Miller K, Samay S, Nellan A, Green AL. Investigation of white blood cell characteristics in cerebrospinal fluid samples at pediatric brain tumor diagnosis. J Neurooncol. 2022 Sep;159(2):301-308. PubMed PMID: 35731362
Hart M, Anderson-Mellies A, Beltrami A, Gilani A, Green AL. Population-based analysis of CNS tumor diagnoses, treatment, and survival in congenital and infant age groups. J Neurooncol. 2022 Apr;157(2):333-344. PubMed PMID: 35175546
Beltrami A, Hilliard A, Green AL. Demographic and socioeconomic disparities in pediatric cancer in the United States: Current knowledge, deepening understanding, and expanding intervention. Cancer Epidemiol. 2022 Feb;76:102082. PubMed PMID: 34923289
Specialty Information
Specialties
Pediatrics, Board Certification (2010)
Pediatric Hematology / Oncology, Board Certification (2015)
Conditions & Treatments
Brain and Nervous System - Brain Tumors
Cancers - Pediatric Cancer
Brain and Nervous System
Cancers
Cancers - Brain Cancer
Child and Teen Health
Clinical Interests
I help lead national clinical trials and give second opinions for other institutions for pediatric high-grade glioma, diffuse intrinsic pontine glioma (DIPG), and diffuse midline glioma. I also specialize in the diagnosis and management of other childhood tumors of the brain and spinal cord. In addition, I have expertise in other childhood cancers, benign blood disorders, and stem cell transplant.

Care Philosophy
I am committed to providing exceptional child- and family-centered care to my patients. I strive to communicate information truthfully to families at all times, and in an age-appropriate way to patients throughout childhood. As part of a team that includes physicians, nurse practitioners, nurses, social workers, and others, I aim to provide the highest quality, most innovative care to all patients from Colorado and beyond, to maximize cure rates and minimize adverse effects of treatment.


Personal Interests
Spending time with my wife and three children, playing piano, singing, road cycling, running, tennis, and triathlon.
Volunteer Activities
I enjoy educating the community on childhood cancer research and advocating for our patients. I am also a volunteer youth soccer and baseball coach.
Public Speaking
Yes
General Information
Medical Schools
:
MD, New York University School of Medicine (2006)
Undergraduate Schools
:
BA, Dartmouth College (NH) (2002)
Internships
:
University of Colorado (Children's Hospital Colorado) Program (2007)
Residency Programs
:
University of Colorado (Children's Hospital Colorado) Program, Chief Resident, Pediatrics (2010)
University of Colorado (Children's Hospital Colorado) Program, Pediatrics (2009)
Fellowships
:
Dana-Farber Cancer Institute/Boston Children's Hospital/Harvard Medical School Program, Pediatric Hematology / Oncology (2013)
Languages
:
English, Spanish
Department
:
Pediatrics-Heme/Onc and Bone Marrow Transplantation