Dan Nicklas, MD
Associate Professor, Pediatrics-General Pediatrics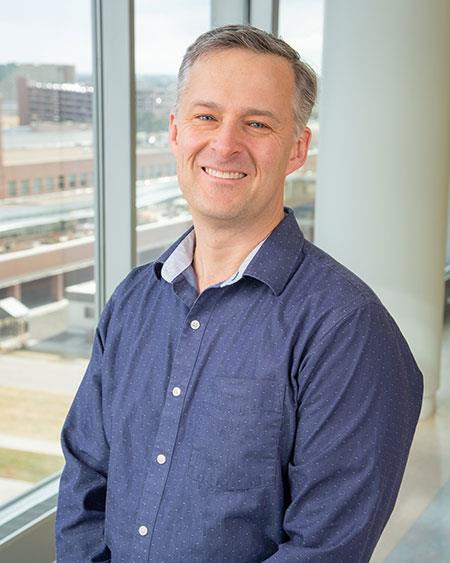 Medical School
:
MD, University of Rochester School of Medicine and Dentistry (2004)
Undergraduate School
:
BA, Harvard University (MA) (1995)
Internship
:
Massachusetts General Hospital Program (2005)
Residency
:
Massachusetts General Hospital Program, Pediatrics (2007)
Languages
:
English, Spanish
Department
:
Pediatrics-General Pediatrics
Teaching
Assistant Professor (2013)
School of Medicine, Pediatrics

Publications
Sriram I, Nicklas D. Biliary Atresia. Pediatr Rev. 2022 Nov 1;43(11):659-661. PubMed PMID: 36316259
Yoeli JK, Nicklas D. Hearing Screening in Pediatric Primary Care. Pediatr Rev. 2021 May;42(5):275-277. PubMed PMID: 33931515
Kripps K, Kierstein J, Nicklas D, Nelson J, Yang M, Collins A, Troy E, Escolar M, Maloney J, Neuberger I, Stence N, Baker PR 2nd. Unusual Neuroimaging in a Case of Rapidly Progressive Juvenile-Onset Krabbe Disease. J Child Neurol. 2020 Sep;35(10):649-653. PubMed PMID: 32484059
Nicklas D, Treitz M, Daniels S, Hanson J, 2020, 'Developing a Center for Education Research and Scholarship in a Department of Pediatrics ', MedEdPublish, 9, [1], 181, https://doi.org/10.15694/mep.2020.000181.1
Ricci L, Dorighi M,Grubenhoff J, Nicklas D. Concussion Podcast- Department of Pediatrics University of Colorado, 22 Nov. 2019, www.merlot.org/merlot/viewMaterial.htm?id=771655813.
Specialty Information
Specialties
Pediatrics, Board Certification (2007, 2007)
Conditions & Treatments
General Information
Medical Schools
:
MD, University of Rochester School of Medicine and Dentistry (2004)
Undergraduate Schools
:
BA, Harvard University (MA) (1995)
Internships
:
Massachusetts General Hospital Program (2005)
Residency Programs
:
Massachusetts General Hospital Program, Pediatrics (2007)
Languages
:
English, Spanish
Department
:
Pediatrics-General Pediatrics