Heather Bleacher, MD
Associate Professor, Family Medicine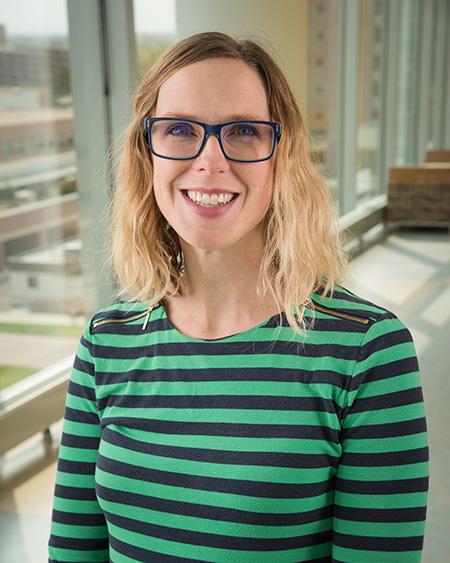 Medical School
:
MD, Tufts University School of Medicine (2009)
Graduate School
:
MPH, University of Colorado Health Sciences Center (2017)
Undergraduate School
:
AB, Princeton University (NJ) (2004)
Internship
:
University of Colorado (University Hospital) Program (2010)
Residency
:
University of Colorado (University Hospital) Program, Family Medicine (2012)
Languages
:
English
Department
:
Family Medicine
Teaching
Assistant Professor (2012)
School of Medicine, Family Medicine
Health equity, LGBTQ health, social determinants of health.
Publications
Bleacher H, Koerperich L, Malam N, DeSanto K. Are antipsychotics effective adjunctive Tx for patients with moderate-to-severe depression?. J Fam Pract. 2022 Jul;71(6):E13-E15. PubMed PMID: 35994758
Bleacher H, English A, Leblanc W, Dickinson LM. Associations Between Patients' Unmet Social Needs and Self-Reported Health Confidence at One Primary Care Clinic. J Prim Care Community Health. 2020 Jan-Dec;11:2150132720921329. PubMed PMID: 32410492
Bleacher H, Lyon C, Mims L, Cebuhar K, Begum A. The Feasibility of Screening for Social Determinants of Health: Seven Lessons Learned. Fam Pract Manag. 2019 Sep Oct;26(5):13-19. PubMed PMID: 31502814
Specialty Information
Specialties
Family Medicine, Board Certification (2012)
Conditions & Treatments
Care Philosophy
My relationship with patients is always a partnership. We will work together to decide on management and treatment strategies that fit with your values and preferences.


General Information
Medical Schools
:
MD, Tufts University School of Medicine (2009)
Graduate Schools
:
MPH, University of Colorado Health Sciences Center (2017)
Undergraduate Schools
:
AB, Princeton University (NJ) (2004)
Internships
:
University of Colorado (University Hospital) Program (2010)
Residency Programs
:
University of Colorado (University Hospital) Program, Family Medicine (2012)
Languages
:
English
Department
:
Family Medicine