Cara Riley, MD
Associate Professor, Anesthesiology-Pediatric Anesthesiology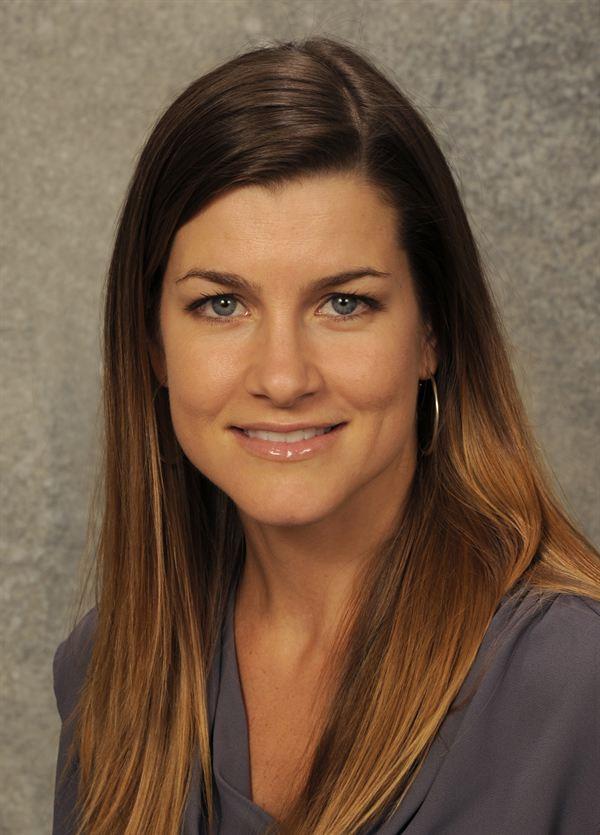 Medical School
:
DMD, Harvard School of Dental Medicine (2009)
Graduate School
:
MS, Ohio State University, The (2011)
Undergraduate School
:
BA, Georgetown University (DC) (2002)
Residency
:
Ohio State University Hospital Program, Chief Resident, Anesthesiology (2011)
Languages
:
English
Department
: Anesthesiology-Pediatric Anesthesiology
Professional Titles
Associate Professor - Anesthesiology
Recognition & Awards
Harvard School of Dental Medicine Gold Award, Alumni Association (2009)
Top-performing graduate in the Harvard School of Medicine Class of 2009
Omicron Kappa Upsilon Dental Honor Society, O.K.U (2009)
Excellence in the practice of dentistry
Alpha Omega International Dental Fraternity Award , Alpha Omega (2009)
Excellence in academic achievement
Horace Wells Senior Student Award, American Dental Society of Anesthesiology (2009)
Outstanding achievement in the field of dental anesthesiology
Certificate of Recognition, American Academy of Orofacial Pain (2009)
Overall excellence in the study of orofacial pain
Teaching
Assistant Professor (2012)
School of Medicine, Anesthesiology
Dental/Maxillofacial Anesthesiology
Associate Professor (2019)
School of Medicine, Anesthesiology
Dental Anesthesiology
Publications
Saraghi M, Fonner AM, Riley CJ, Brady JW. Administering oral and written board examinations remotely during the COVID-19 pandemic. J Dent Educ. 2021 Jun 5. [Epub ahead of print] PubMed PMID: 34089186
Kramer K, Riley C, Brady J. Overview of Local Anesthesia. Applied Head and Neck Anatomy for the Facial Cosmetic Surgeon. Ferneini et al (Eds.). Springer International Publishing, Switzerland, 2020. Pages 3-15.
Riley CJ, Moore T, Eagelston L, Burkett D, Auerbach S, Ing RJ. Cardiac Failure in a Trisomy 9 Patient Undergoing Anesthesia: A Case Report. Anesth Prog. 2017 Spring;64(1):29-32. PubMed PMID: 28128660
Yen P, Prior S, Riley C, Johnston W, Smiley M, Thikkurissy S. A comparison of fospropofol to midazolam for moderate sedation during outpatient dental procedures. Anesth Prog. 2013 Winter;60(4):162-77. PubMed PMID: 24423419
Specialty Information
Specialties
Dental/Maxillofacial Anesthesiology, Certificate (2011)
Clinical Interests
I am Board Certified by the American Dental Board of Anesthesiology. I specialize in anesthesia for children and special needs adults who cannot otherwise tolerate dental/oral surgery treatment.

Care Philosophy
I believe that each patient is my most important patient. My patients and their families deserve my absolute best work.


Personal Interests
I am a sports enthusiast and mother to two boys.
Volunteer Activities
I volunteer for the Colorado Board of Dentistry as a consultant regarding Anesthesia and Sedation practices. I am President of the American Dental Board of Anesthesiology, the certifying board for the specialty of dental anesthesiology.
Public Speaking
Yes
My main focus is the safe and effective sedation of pediatric dental patients.
General Information
Medical Schools
:
DMD, Harvard School of Dental Medicine (2009)
Graduate Schools
:
MS, Ohio State University, The (2011)
Undergraduate Schools
:
BA, Georgetown University (DC) (2002)
Residency Programs
:
Ohio State University Hospital Program, Chief Resident, Anesthesiology (2011)
Languages
:
English
Department
: Anesthesiology-Pediatric Anesthesiology