D. Ross Camidge, MD, PhD
Professor, Medicine-Medical Oncology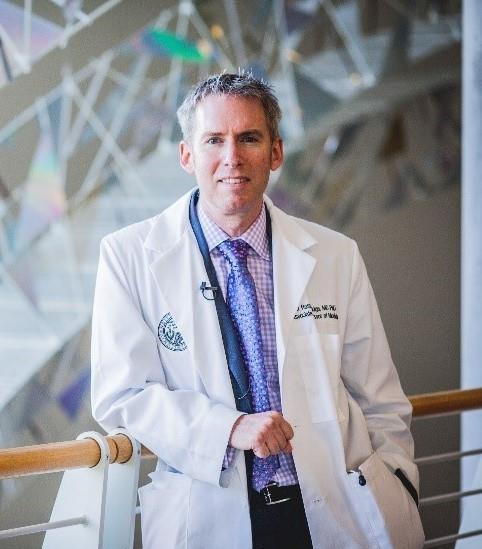 Medical School
:
MD, University of Oxford, Oxford, UK (1995)
Graduate School
:
PhD, University of Cambridge, Cambridge, UK (1992)
Undergraduate School
:
BA, Oxford University, Oxford, UK (1988)
Internship
:
John Radcliffe Hospital, Oxford, UK (1995)
Languages
:
English
Department
:
Medicine-Medical Oncology
Recognition & Awards
Chair in Lung Cancer Research, Joyce Zeff (2015)
Joyce Zeff Chair in Lung Cancer Research established in August, 2015
Physician Mentorship Recognition, The Quality of Life Research Center, Claremont University, CA (2014)

Weir Family Lectureship, Amarillo Cancer Center, Texas Tech University, Amarillo, TX (2014)

Hank Baskett Sr. Spirit Award, Hank Baskett Celebrity Golf Classic (2013)

Best Lung Cancer Doctor, ColoradoBiz Magazine, Best Doctor for Executives (2012)

Research Interests
The CU Thoracic Oncology Program has been behind almost every major development in the treatment of thoracic cancers, particularly lung cancer, in the last decade. In addition to research ideas originating directly from CU, as our national and international reputation has grown to make us one of the top lung cancer programs in the world, we get offered a very wide array of new drugs and new approaches to explore in clinical trials. We then use our extensive experience to try to pick the experimental drugs and treatments with the very highest chances of success to include in our clinical trials portfolio. Nationally only about 3% of lung cancer patients are placed on clinical trials, but for many years our own accrual rates have consistently run at about 40% - one of the highest in the world - not because we are in the business of throwing trials at people, but much more because we believe the best treatment for many cancers continues to improve and clinical trials are the means to get our patients access to these potential breakthroughs years before they will become more widely available.
Publications
Thomas NJ, Myall NJ, Sun F, Patil T, Mushtaq R, Yu C, Sinha S, Pollom EL, Nagpal S, Camidge DR, Rusthoven CG, Braunstein SE, Wakelee HA, McCoach CE. Brain Metastases in EGFR- and ALK-Positive NSCLC: Outcomes of Central Nervous System-Penetrant Tyrosine Kinase Inhibitors Alone Versus in Combination With Radiation. J Thorac Oncol. 2022 Jan;17(1):116-129. PubMed PMID: 34455066
Mushtaq R, Cortot AB, Gautschi O, Mazieres J, Camidge DR. PD-1/PD-L1 inhibitor activity in patients with gene-rearrangement positive non-small cell lung cancer-an IMMUNOTARGET case series. Transl Lung Cancer Res. 2022 Dec;11(12):2412-2417. PubMed PMID: 36636412
Drilon A, Horan JC, Tangpeerachaikul A, Besse B, Ou SI, Gadgeel SM, Camidge DR, van der Wekken AJ, Nguyen-Phuong L, Acker A, Keddy C, Nicholson KS, Yoda S, Mente S, Sun Y, Soglia JR, Kohl NE, Porter JR, Shair MD, Zhu V, Davare MA, Hata AN, Pelish HE, Lin JJ. NVL-520 is a selective, TRK-sparing, and brain-penetrant inhibitor of ROS1 fusions and secondary resistance mutations. Cancer Discov. 2022 Dec 13. [Epub ahead of print] PubMed PMID: 36511802
Simons EA, Patil T, Camidge DR. Pregnancy and Pathways to Motherhood in Oncogene-driven Lung Cancer: A Single Institution Experience. Clin Lung Cancer. 2022 Nov 11. [Epub ahead of print] PubMed PMID: 36470760
Camidge DR, Barlesi F, Goldman JW, Morgensztern D, Heist R, Vokes E, Spira A, Angevin E, Su WC, Hong DS, Strickler JH, Motwani M, Dunbar M, Parikh A, Noon E, Blot V, Wu J, Kelly K. Phase Ib Study of Telisotuzumab Vedotin in Combination With Erlotinib in Patients With c-Met Protein-Expressing Non-Small-Cell Lung Cancer. J Clin Oncol. 2022 Oct 26;:JCO2200739. [Epub ahead of print] PubMed PMID: 36288547
Specialty Information
Specialties
Conditions & Treatments
Cancers - Lung Cancer
Cancers
Clinical Interests
I have been the Director of the Thoracic Oncology Clinical and Clinical Research Programs at CU since 2007. Thoracic Oncology encompasses predominantly lung cancer (both small cell and non-small cell), mesothelioma and thymic cancers. The standard treatment for many of these cancers have undergone a revolution in the last few years, particularly in relation to the use of personalized medicine – doing a series of specific tests to look for what is 'driving' the cancer and then trying to tailor drug treatments to each cancer's specific genetic 'Achilles heel'. With multiple successes to our name, the CU program has really established itself as one of the premier sites for leading this approach. In addition, every physician in the Thoracic Oncology Program works as part of a highly functional multidisciplinary team, working very closely with all our colleagues in other relevant specialties – including thoracic surgery, radiation oncology and pulmonology – to deliver personalized medicine in a different way – developing a personal treatment plan for each patient. This approach allows us to make the optimal use of every possible modality, often pushing the envelope in terms of new developments, to maximize the chances of prolonging control or curing each person's cancer. Beyond the medicine, I, and all members of our team, also believe we should look after every patient, and their friends and family, as we would want our own friends and family to be looked after - From the personal touch of our highly informed and highly skilled schedulers and navigators, through to the honesty and expertise of our clinic nurses and faculty. Cancer is a tough diagnosis for everyone involved – so part of our job is to make the day to day business of caring for it as positive an experience as possible.


General Information
Medical Schools
:
MD, University of Oxford, Oxford, UK (1995)
Graduate Schools
:
PhD, University of Cambridge, Cambridge, UK (1992)
Undergraduate Schools
:
BA, Oxford University, Oxford, UK (1988)
Internships
:
John Radcliffe Hospital, Oxford, UK (1995)
Languages
:
English
Department
:
Medicine-Medical Oncology