Ali Musani, MD
Professor, Medicine-Pulmonary Sciences & Critical Care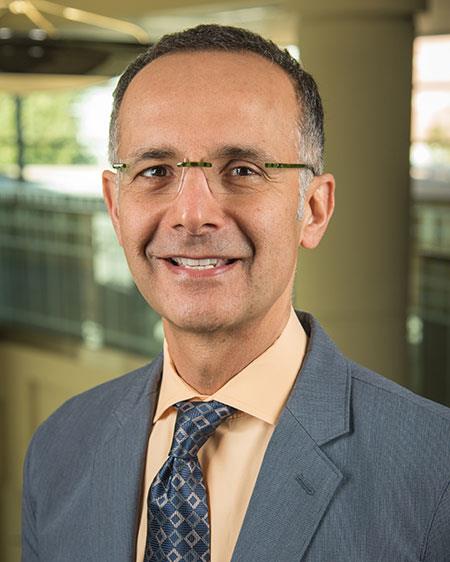 Download CV
Medical School
:
MD, Dow Medical College, Karachi Pakistan (1990)
Internship
:
SUNY Health Science Center at Brooklyn Program (1994)
Residency
:
SUNY Health Science Center at Brooklyn Program, Internal Medicine (1996)
Fellowships
:
Thomas Jefferson University Program, Pulmonary Disease and Critical Care Medicine (2001)
University of Pennsylvania Health System Program, Pulmonary Disease (2002)
Languages
:
English
Department
:
Medicine-Pulmonary Sciences & Critical Care
Professional Titles
Director, Bronchoscopy Service
Teaching
Professor of Meidicne (2017)
School of Medicine, Medicine
Interventional Pulmonology
Publications
Lachkar S, Crombag LMM, Musani AI. How Interventional Pulmonologists Can Address Climate Change. Respiration. 2023 Jan 18;:1-4. [Epub ahead of print] PubMed PMID: 36652937
Doran J, Hanna R, Nyagura-Mangori T, Mahotra N, Das SK, Borok M, Musani A, Maw AM. Stakeholder perspectives on current determinants of ultrasound-guided thoracentesis in resources limited settings: a qualitative study. BMJ Open. 2022 Dec 12;12(12):e064638. PubMed PMID: 36523247
Kalchiem-Dekel O, Schwalk AJ, Patel NM, Lin IH, Beattie JA, Husta BC, Chawla M, Sachdeva A, Akulian JA, Musani AI, Argento AC, Lee HJ, Mullon JJ, Desai NR, Hsia DW, Lee RP. COVID-19 Impact on Interventional Pulmonology Training. ATS Sch. 2021 Jun;2(2):236-248. PubMed PMID: 34409418
Musani AI. Response. Chest. 2021 Apr;159(4):1690. PubMed PMID: 34022011
Kniese CM, Musani AI. Bronchoscopic treatment of inoperable nonsmall cell lung cancer. Eur Respir Rev. 2020 Dec 31;29(158). PubMed PMID: 33153988
Practice Locations
UCHealth Pulmonology Clinic - Anschutz Medical Campus
1635 Aurora Ct
7th Floor
Aurora
, CO
80045
720-848-0748
UCHealth Pulmonary Nodule Clinic - Anschutz Medical Campus
1665 Aurora Ct
Aurora
, CO
80045
720-848-9264
Hospital Affiliation
University of Colorado Hospital
Specialty Information
Specialties
Internal Medicine, Board Certification (1997)
Pulmonary Disease, Board Certification (2001)
Interventional Pulmonology, Board Certification (2014)
Conditions & Treatments
Lungs and Breathing - Pulmonary Disorders
Lungs and Breathing - Lung Disease
Lungs and Breathing
Lungs and Breathing - Interventional Pulmonology
Clinical Interests
Dr. Musani has special interests in interventional pulmonology; early diagnosis of lung cancer; staging of lung cancer; treatment of airway obstruction due to cancers and benign disorders; malignant pleural effusion. He received extensive training, both locally and internationally, in complicated lung diseases requiring bronchoscopic procedures and pleural procedures.


General Information
Medical Schools
:
MD, Dow Medical College, Karachi Pakistan (1990)
Internships
:
SUNY Health Science Center at Brooklyn Program (1994)
Residency Programs
:
SUNY Health Science Center at Brooklyn Program, Internal Medicine (1996)
Fellowships
:
Thomas Jefferson University Program, Pulmonary Disease and Critical Care Medicine (2001)
University of Pennsylvania Health System Program, Pulmonary Disease (2002)
Download CV
Languages
:
English
Department
:
Medicine-Pulmonary Sciences & Critical Care