Stephen Malkoski, MD, PhD
Associate Clinical Professor, Medicine-Pulmonary Sciences & Critical Care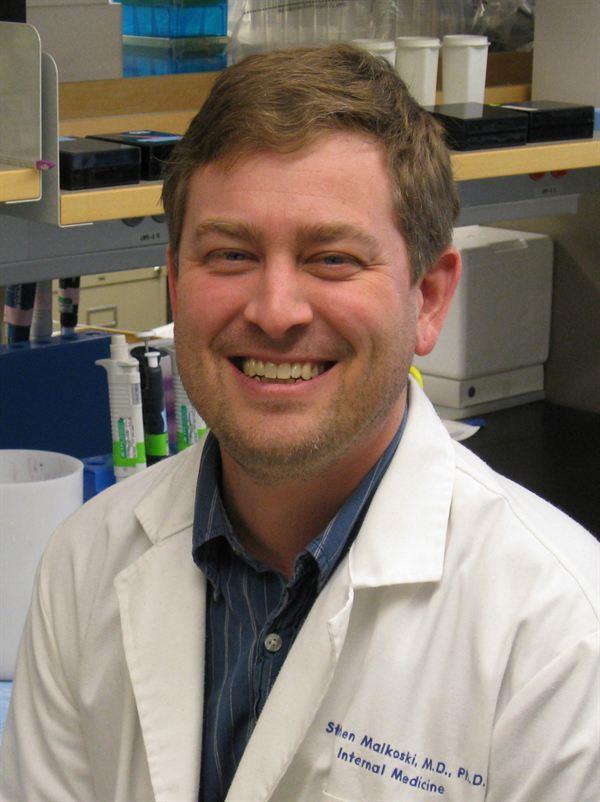 Download CV
Medical School
:
MD, University of New Mexico School of Medicine (2000)
Graduate School
:
PhD, University of New Mexico (2000)
Undergraduate School
:
BS, New Mexico Institute of Mining & Technology (NM) (1991)
Internship
:
Oregon Health & Science University (2001)
Residency
:
Oregon Health & Science University, Internal Medicine (2003)
Fellowships
:
Oregon Health & Science University, Pulmonary Disease and Critical Care Medicine (2007)
Languages
:
English
Department
:
Medicine-Pulmonary Sciences & Critical Care
Professional Titles
Director, Lung Nodule Clinic
Research Interests
I am interested in the identification of cancer stem cells in lung squamous cell carcinoma and targeting of these stem cells in preclinical chemotherapeutic trials.
Publications
Kwak JW, Laskowski J, Li HY, McSharry MV, Sippel TR, Bullock BL, Johnson AM, Poczobutt JM, Neuwelt AJ, Malkoski SP, Weiser-Evans MC, Lambris J, Clambey ET, Thurman JM, Nemenoff RA. Complement activation via a C3a receptor pathway alters CD4 T lymphocytes and mediates lung cancer progression. Cancer Res. 2017 Nov 8. [Epub ahead of print] PubMed PMID: 29118090
Barón AE, Kako S, Feser WJ, Malinowski H, Merrick D, Garg K, Malkoski S, Pretzel S, Siegfried JM, Franklin WA, Miller Y, Wolf HJ, Varella-Garcia M. Clinical Utility of Chromosomal Aneusomy in Individuals at High Risk of Lung Cancer. J Thorac Oncol. 2017 Oct;12(10):1512-1523. PubMed PMID: 28634123
Mansoori JN, Little N, Malkoski SP. Maximizing Benefits and Minimizing Harms of Lung Cancer Screening: A Teachable Moment. JAMA Intern Med. 2017 Aug 1;177(8):1197-1198. PubMed PMID: 28628709
Ziemke M, Patil T, Nolan K, Tippimanchai D, Malkoski SP. Reduced Smad4 expression and DNA topoisomerase inhibitor chemosensitivity in non-small cell lung cancer. Lung Cancer. 2017 Jul;109:28-35. PubMed PMID: 28577946
Du L, Chen X, Cao Y, Lu L, Zhang F, Bornstein S, Li Y, Owens P, Malkoski S, Said S, Jin F, Kulesz-Martin M, Gross N, Wang XJ, Lu SL. Overexpression of PIK3CA in murine head and neck epithelium drives tumor invasion and metastasis through PDK1 and enhanced TGFß signaling. Oncogene. 2016 Sep 1;35(35):4641-52. PubMed PMID: 26876212
Specialty Information
Specialties
Internal Medicine, Board Certification (2004)
Pulmonary Disease, Board Certification (2006)
Critical Care Medicine (2007)
Conditions & Treatments
Cancers - Lung Cancer
Lungs and Breathing - Pulmonary Disorders
Critical Care
Cancers
Lungs and Breathing
Clinical Interests
I am interested in Lung Cancer and Management of Solitary Pulmonary Nodule.


General Information
Medical Schools
:
MD, University of New Mexico School of Medicine (2000)
Graduate Schools
:
PhD, University of New Mexico (2000)
Undergraduate Schools
:
BS, New Mexico Institute of Mining & Technology (NM) (1991)
Internships
:
Oregon Health & Science University (2001)
Residency Programs
:
Oregon Health & Science University, Internal Medicine (2003)
Fellowships
:
Oregon Health & Science University, Pulmonary Disease and Critical Care Medicine (2007)
Download CV
Languages
:
English
Department
:
Medicine-Pulmonary Sciences & Critical Care