Myron Levin, MD
Professor, Pediatrics-Infectious Diseases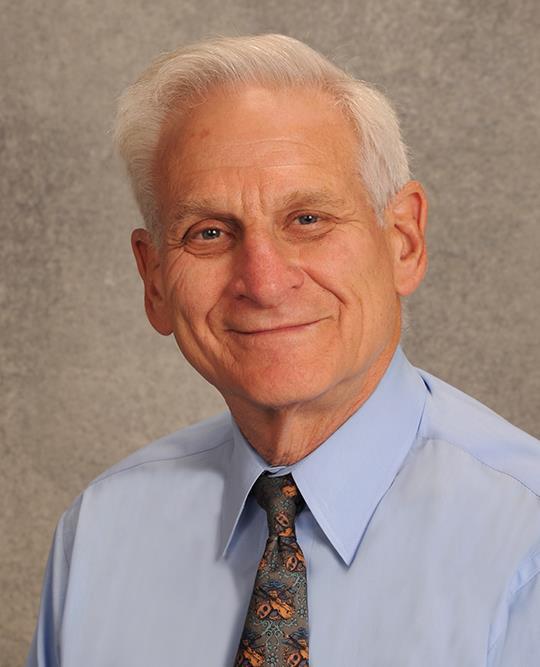 Medical School
:
MD, Harvard Medical School (1964)
Undergraduate School
:
BA, Harvard University (MA) (1960)
Internship
:
Albert Einstein College of Medicine (Jacobi) Program (1965)
Residency
:
Albert Einstein College of Medicine (Jacobi) Program, Internal Medicine (1966)
Fellowships
:
Beth Israel Deaconess Medical Center Program, Infectious Disease (1971)
Languages
:
English
Department
:
Pediatrics-Infectious Diseases
Professional Titles
Associate Director, Pediatric HIV Clinic
Research Interests
Dr. Levin is studying the immune response to herpes virus infections and methods of treating and preventing such infections, including antiviral therapy and active immunization. He does basic research on the nature of latency of herpes viruses in human neurons. A vaccine to prevent shingles in elderly individuals has been developed and licensed through his clinical research, and further investigations of this vaccine are in progress.
Publications
Albrecht M, Levin MJ. Treatment of herpes zoster in the immunocompetent host. Post TW, ed. UpToDate Inc, Waltham, MA. http://www.uptodate.com. Revised and accessed July 27, 2022.
Bunik M, Hay WH, Levin MJ, Abzug MJ (eds): Current Pediatric Diagnosis & Treatment, 26th Ed. Lange Medical Books-McGraw–Hill Companies (New York); 2022.
Muchtar E, Koehler AB, Johnson MJ, Rabe KG, Ding W, Call TG, Leis JF, Kenderian SS, Hayman SR, Wang Y, Hampel PJ, Holets MA, Darby HC, Slager SL, Kay NE, Whitaker JA, Levin MJ, Schmid DS, Kennedy RB, Weinberg A, and Parikh SA. Humoral and cellular immune responses to the recombinant herpes zoster vaccine in patients with chronic lymphocytic leukemia or monoclonal B cell lymphocytosis. Am J Hematol 2022; 97: 90-98,. doi:10.1002/ajh.2638
Johnson MJ, Liu C, Debashis G, Lang N, Levin MJ, Weinberg A. Cell-mediated immune responses after administration of the live or the recombinant zoster vaccine: Five-year persistence. J Infect Dis 2022,225: 1477-1481.
J. Divino V, Anupindi R, DeKoven M, Mould-Quevedo J, Pelton SI, Postma MJ, Levin MJ. A Real-World Clinical and Economic Analysis of Cell-derived Quadrivalent Influenza Vaccine Compared to Standard Egg-derived Quadrivalent Influenza Vaccines During the 2019-20 Influenza Season in the United States. Open forum Infectious Diseases, 2022; https://doi.org/10.1093/ofid/ofab604
Specialty Information
Specialties
Internal Medicine, Board Certification (1979)
Infectious Disease, Board Certification (1996)
Conditions & Treatments
Infections - Viral Infections
Infections - Sexually Transmitted Diseases
Immune System - AIDS
Immune System - AIDS / HIV Disease
Immune System
Infections
Clinical Interests
I am interested in Clinical Virology, Antiviral Therapy and Herpes Virus Infections.


General Information
Medical Schools
:
MD, Harvard Medical School (1964)
Undergraduate Schools
:
BA, Harvard University (MA) (1960)
Internships
:
Albert Einstein College of Medicine (Jacobi) Program (1965)
Residency Programs
:
Albert Einstein College of Medicine (Jacobi) Program, Internal Medicine (1966)
Fellowships
:
Beth Israel Deaconess Medical Center Program, Infectious Disease (1971)
Languages
:
English
Department
:
Pediatrics-Infectious Diseases