Maria Vejar, DNP, NP, RN
Sr. Instructor, Medicine-Geriatrics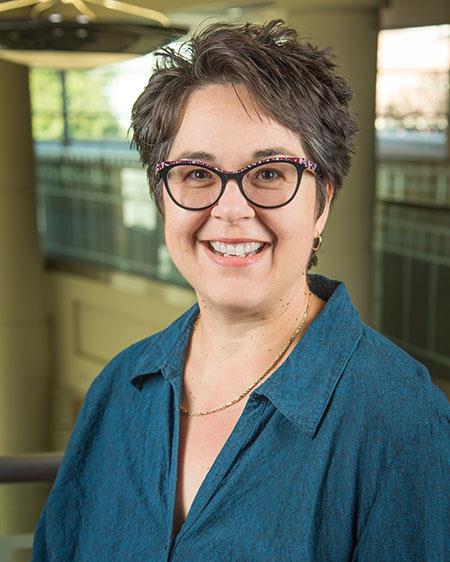 Graduate Schools
:
MSN, Pacific Lutheran University (1997)
DNP, University of Colorado Health Sciences Center (2012)
Undergraduate School
:
BSN, Pacific Lutheran University (WA) (1990)
Languages
:
English
Department
:
Medicine-Geriatrics
Publications
Fixen DR, Farro SA, Shanbhag P, Parnes BL, Vejar MV. Multidisciplinary Approach to Deprescribing Sedative-Hypnotic Medications in Geriatric Primary Care. J Prim Care Community Health. 2022 Jan-Dec;13:21501319221103416. PubMed PMID: 35678247
Schifeling CH, Shanbhag P, Johnson A, Atwater RC, Koljack C, Parnes BL, Vejar MM, Farro SA, Phimphasone-Brady P, Lum HD. Disparities in Video and Telephone Visits Among Older Adults During the COVID-19 Pandemic: Cross-Sectional Analysis. JMIR Aging. 2020 Nov 10;3(2):e23176. PubMed PMID: 33048821
Kant RE, Vejar M, Parnes B, Mulder J, Daddato A, Matlock DD, Lum HD. Outcomes and provider perspectives on geriatric care by a nurse practitioner-led community paramedicine program. Geriatr Nurs. 2018 Sep - Oct;39(5):574-579. PubMed PMID: 29731391
Fixen DR, Linnebur SA, Parnes BL, Vejar MV, Vande Griend JP. Development and economic evaluation of a pharmacist-provided chronic care management service in an ambulatory care geriatrics clinic. Am J Health Syst Pharm. 2018 Nov 15;75(22):1805-1811. PubMed PMID: 30104259
Tandon A, Linnebur SA, Vejar MV. Identifying Cognitive Impairment in an Older Adult Using Two Different Screening Tools. Consult Pharm. 2018 Dec 1;33(12):702-705. PubMed PMID: 30545433
Specialty Information
Specialties
Geriatric Medicine, Board Certification (2001)
Certified Nurse Practitioner, License (2001)
Conditions & Treatments
Seniors' Health
Primary Care
Wellness and Prevention
Clinical Interests
I have a specific interest in participating in quality improvement in an effort to improve the care and experience we provide our patients and families. I am interested in all aspects of primary care as it relates to geriatrics and their families/caregivers. In addition, I have special interest in topics of depression, anxiety, grief/loss, end of life care and helping my patients experience a sense of peace and improved quality of life.

Care Philosophy
Practicing as a Geriatric Nurse Practitioner is one of my greatest joys and honors. I feel very fortunate and privileged to be a part of the care of my patients and a support to their families and caregivers. I believe in a holistic, patient centered and collaborative approach to care, and I strive for that everyday. I consider myself a life long learner, and some of my greatest teachers are my patients. Additionally, I value the role as a preceptor and Senior Instructor for the many students I am able to spend time with, as well as share my love of geriatrics along the way. I feel incredibly fortunate to work in the Seniors Clinic and within the Division of Geriatric Medicine with so many phenomenal providers and educators.


General Information
Graduate Schools
:
MSN, Pacific Lutheran University (1997)
DNP, University of Colorado Health Sciences Center (2012)
Undergraduate Schools
:
BSN, Pacific Lutheran University (WA) (1990)
Languages
:
English
Department
:
Medicine-Geriatrics