Thomas Robinson, MD
Professor, Surgery-GI, Trauma, and Endocrine Surgery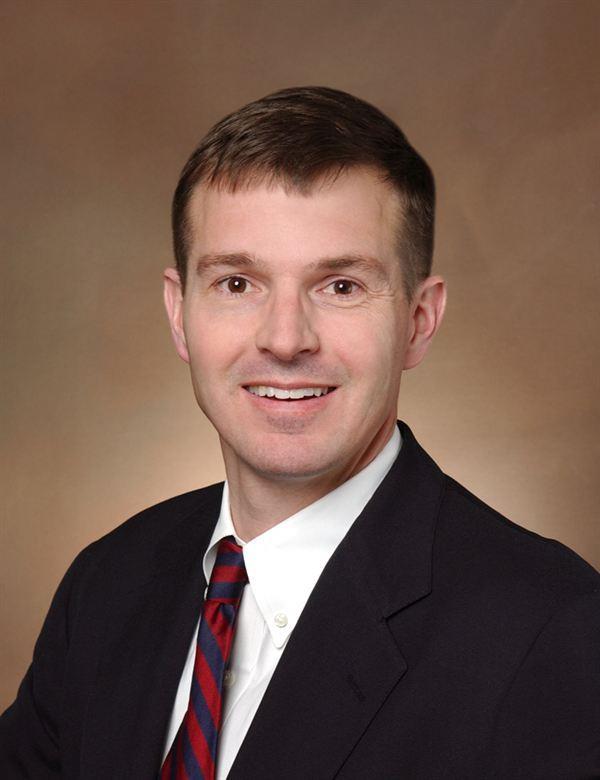 Download CV
Medical School
:
MD, Columbia University College of Physicians and Surgeons (1996)
Undergraduate School
:
BS, Stanford University (CA) (1991)
Internship
:
University of Colorado (1997)
Residency
:
University of Colorado, Surgery (2002)
Fellowships
:
University of California (San Francisco) Program, Surgery (2003)
Languages
:
English
Department
:
Surgery-GI, Trauma, and Endocrine Surgery
Research Interests
My research efforts aim to better understand peri-operative issues in geriatric patients. My current research project is a placebo controlled trial evaluating the effect of tryptophan on the incidence of post-operative delirium.
Publications
Moyer AM, Abbitt D, Choy K, Jones TS, Morin TL, Wikiel KJ, Barnett CC, Moore JT, Robinson TN, Jones EL. A dedicated feeding tube clinic reduces emergency department utilization for gastrostomy tube complications. Surg Endosc. 2022 Feb 7. [Epub ahead of print] PubMed PMID: 35132448
Olasky J, Jones EL, Jones DB, Robinson TN. Safer operating room teams: rationale for the fundamental use of surgical energy (FUSE) hospital compliance module. Surg Endosc. 2022 Jan 13. [Epub ahead of print] PubMed PMID: 35022829
Jones TS, Jones EL, Barnett CC Jr, Moore JT, Wikiel KJ, Horney CP, Unruh M, Levy CR, Robinson TN. A Multidisciplinary High-Risk Surgery Committee May Improve Perioperative Decision Making for Patients and Physicians. J Palliat Med. 2021 Dec;24(12):1863-1866. PubMed PMID: 34851187
Kovar A, Carmichael H, Jones TS, Hosokawa P, Goode CM, Overbey DM, Jones EL, Robinson TN. Early identification of patients at risk for delayed recovery of ambulation after elective abdominal surgery. Surg Endosc. 2021 Nov 9. [Epub ahead of print] PubMed PMID: 34755234
Robinson TN, Carmichael H, Hosokawa P, Overbey DM, Goode CM, Barnett CC Jr, Jones EL, Jones TS. Decreases in daily ambulation forecast post-surgical re-admission. Am J Surg. 2021 Aug 10. [Epub ahead of print] PubMed PMID: 34392912
Specialty Information
Specialties
Surgery, Board Certification (2003)
Clinical Interests
I am interested in Advanced Laparoscopic Surgery, General Surgery, Laparoscopic Surgery and Endocrine Surgery to treat Hernia, Lipoma (Tumors), Lymph Nodes and Hemorrhoids.


General Information
Medical Schools
:
MD, Columbia University College of Physicians and Surgeons (1996)
Undergraduate Schools
:
BS, Stanford University (CA) (1991)
Internships
:
University of Colorado (1997)
Residency Programs
:
University of Colorado, Surgery (2002)
Fellowships
:
University of California (San Francisco) Program, Surgery (2003)
Download CV
Languages
:
English
Department
:
Surgery-GI, Trauma, and Endocrine Surgery