Brian Wolfe, MD
Associate Professor, Medicine-Hospital Medicine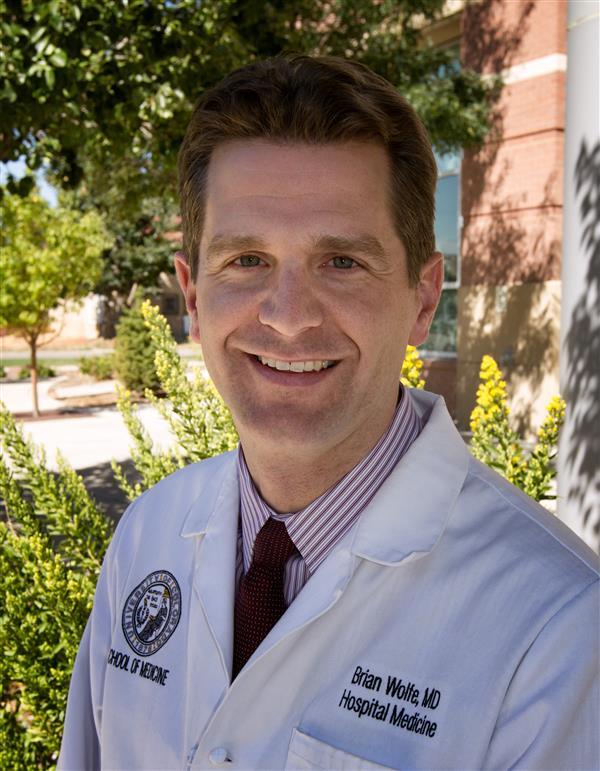 Download CV
Medical School
:
MD, Johns Hopkins University School of Medicine (2001)
Undergraduate School
:
BS, Emory & Henry College (VA) (1997)
Residencies
:
Dartmouth-Hitchcock Medical Center Program, Chief Resident, Internal Medicine (2005)
Dartmouth-Hitchcock Medical Center Program, Internal Medicine (2004)
Languages
:
English
Department
:
Medicine-Hospital Medicine
Recognition & Awards
AANP Advocate State Award for Excellence, Colorado State AANP (2016)
Selected by the Colorado State AANP for promoting the role of the nurse practitioner.
Excellence in Clinical Innovation, University Colorado Hospital Medical Staff (2015)
For continued development of the Advanced Practice Fellowship, a post-graduate training program for physician assistants and nurse practitioners in hospital-based medicine.
Temple Junior Faculty Residency Teaching Award, Temple University (2008)
Best Patient Advocate to the Vanderbilt University Emergency Department , Vanderbilt University (2007)

Publications
Wolfe B. Postgraduate Inpatient Training in the Time COVID-19. The Journal for Nurse Practitioners. 2020 Jun 1.
Klimpl D, Franco T, Tackett S, Cardin TE, Wolfe B, Wright S, Kisuule F. The Current State of Advanced Practice Provider Fellowships in Hospital Medicine: A Survey of Program Directors. J Hosp Med. 2019 Jul 1;14(7):401-406. PubMed PMID: 30986178
Anderson M, Hassell KL, Trujillo TC, Wolfe B. When patients on target-specific oral anticoagulants need surgery. Cleve Clin J Med. 2014 Oct;81(10):629-39. PubMed PMID: 25274657
Specialty Information
Specialties
Internal Medicine, Board Certification (2004, 2014)
Clinical Interests
This physician treats inpatients only and does not make office appointments.

Care Philosophy
I wholeheartedly believe in approaching a patient's care as a partnership. When a person is admitted to the hospital, this can be a stressful and disorienting experience. My role in the physician-patient partnership is to 1) understand a patient's concerns and who he is she is as a person, 2) bring state-of-the-art care to the bedside, 3) communicate with the patient, the family, and the patient's other physicians in a high level and meaningful manner.


General Information
Medical Schools
:
MD, Johns Hopkins University School of Medicine (2001)
Undergraduate Schools
:
BS, Emory & Henry College (VA) (1997)
Residency Programs
:
Dartmouth-Hitchcock Medical Center Program, Chief Resident, Internal Medicine (2005)
Dartmouth-Hitchcock Medical Center Program, Internal Medicine (2004)
Download CV
Languages
:
English
Department
:
Medicine-Hospital Medicine