William Robinson, MD, PhD
Professor, Medicine-Medical Oncology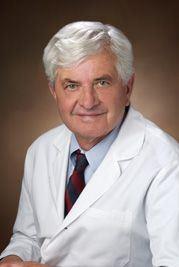 Medical School
:
MD, University of Colorado Denver School of Medicine (1962)
Graduate School
:
PhD, University of Melbourne (1968)
Undergraduate School
:
BS, Colorado State University (CO) (1962)
Internship
:
Brigham and Women's Hospital/Massachusetts General Hospital Program (1963)
Residencies
:
University of Colorado (University Hospital) Program, Internal Medicine (1966)
Brigham and Women's Hospital/Massachusetts General Hospital Program, Internal Medicine (1964)
Languages
:
English
Department
:
Medicine-Medical Oncology
Research Interests
I am an active clinical and basic investigator with a laboratory studying the molecular and genetic regulation of cancer development. This allows me to be on the forefront of new developments and use laboratory derived knowledge to develop new targeted treatments.
Publications
Vorwald VM, Davis DM, Van Gulick RJ, Torphy RJ, Borgers JS, Klarquist J, Couts KL, Amato CM, Cogswell DT, Fujita M, Castleman MJ, Davis T, Lozupone C, Medina TM, Robinson WA, Gapin L, McCarter MD, Tobin RP. Circulating CD8( ) mucosal-associated invariant T cells correlate with improved treatment responses and overall survival in anti-PD-1-treated melanoma patients. Clin Transl Immunology. 2022;11(1):e1367. PubMed PMID: 35028137
Wang K, Patkar S, Lee JS, Gertz EM, Robinson W, Schischlik F, Crawford DR, Schaffer AA, Ruppin E. Deconvolving clinically relevant cellular immune crosstalk from bulk gene expression using CODEFACS and LIRICS stratifies melanoma patients to anti-PD-1 therapy. Cancer Discov. 2022 Jan 4. [Epub ahead of print] PubMed PMID: 34983745
Mukherjee N, Dart CR, Amato CM, Honig-Frand A, Lambert JR, Lambert KA, Robinson WA, Tobin RP, McCarter MD, Couts KL, Fujita M, Norris DA, Shellman YG. Expression Differences in BCL2 Family Members between Uveal and Cutaneous Melanomas Account for Varying Sensitivity to BH3 Mimetics. J Invest Dermatol. 2021 Dec 20. [Epub ahead of print] PubMed PMID: 34942200
DeAngelo DJ, Radia DH, George TI, Robinson WA, Quiery AT, Drummond MW, Bose P, Hexner EO, Winton EF, Horny HP, Tugnait M, Schmidt-Kittler O, Evans EK, Lin HM, Mar BG, Verstovsek S, Deininger MW, Gotlib J. Safety and efficacy of avapritinib in advanced systemic mastocytosis: the phase 1 EXPLORER trial. Nat Med. 2021 Dec;27(12):2183-2191. PubMed PMID: 34873347
Nassar KW, Hintzsche JD, Bagby SM, Espinoza V, Langouët-Astrié C, Amato CM, Chimed TS, Fujita M, Robinson W, Tan AC, Schweppe RE. Targeting CDK4/6 Represents a Therapeutic Vulnerability in Acquired BRAF/MEK Inhibitor-Resistant Melanoma. Mol Cancer Ther. 2021 Oct;20(10):2049-2060. PubMed PMID: 34376578
Specialty Information
Specialties
Internal Medicine, Board Certification (1974)
Medical Oncology, Board Certification (1999)
Conditions & Treatments
Cancers
Cancers - Breast Cancer
Cancers - Melanoma
Blood / Lymphatic System
Clinical Interests
I have broad experience in the treatment of cancer using all available therapies, but I am particularly interested in the new targeted treatments that are rapidly entering clinical medicine.

Care Philosophy
I like to get to know the patients that I see - who they are, what they do and what their expectations are. I strive to be open and honest which is not always easy in cancer care. I share as much information as I can in an understandable way and believe that the more informed a person is the better.


Personal Interests
I have two active young sons who play basketball and baseball year round. If we are not shooting hoops together we are practicing baseball or going to a game. I ski and like to work with my hands. I grew up on a rocky old ranch near Boulder where we go every weekend to cut hay, fix fences and try to grow some wine grapes.

Volunteer Activities
I have spent almost two years working in India and have started a scholarship program for medical students from here to go to the developing world to experience first hand the difficulties of practicing medicine in areas with limited resources.


General Information
Medical Schools
:
MD, University of Colorado Denver School of Medicine (1962)
Graduate Schools
:
PhD, University of Melbourne (1968)
Undergraduate Schools
:
BS, Colorado State University (CO) (1962)
Internships
:
Brigham and Women's Hospital/Massachusetts General Hospital Program (1963)
Residency Programs
:
University of Colorado (University Hospital) Program, Internal Medicine (1966)
Brigham and Women's Hospital/Massachusetts General Hospital Program, Internal Medicine (1964)
Languages
:
English
Department
:
Medicine-Medical Oncology