Jena French, PhD
Associate Professor, Medicine-Endocrinology/Metabolism/Diabetes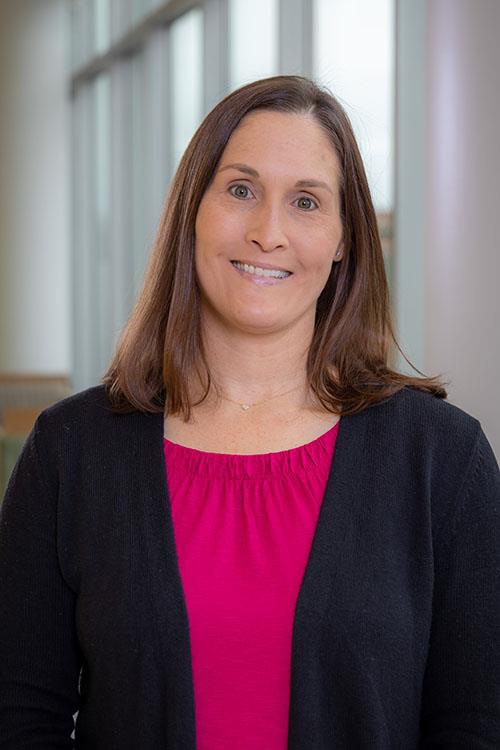 Download CV
Graduate School
:
PhD, Mayo Graduate School (2002)
Undergraduate School
:
BS, University of Sioux Falls (SD) (1997)
Fellowships
:
National Jewish Medical and Research Center, Allergy and Immunology (2007)
Languages
:
English
Department
:
Medicine-Endocrinology/Metabolism/Diabetes
Research Interests
-Tumor Immunology and Immuno-oncology -Thyroid Cancer My current research focuses on defining the role of the immune response in advanced thyroid cancers. Using archival and fresh surgical samples. I was the first to characterize PD-1+ T cells and T cell exhaustion in differentiated thyroid cancers. In the past few years, I have published my key data describing partial T exhaustion in regional lymph node metastases (Severson et al., CIR 2015) and the immune response in invasive and distant metastatic disease (Bastman et al., JCEM 2016). These studies led to our current clinical trial investigating the efficacy of pembrolizumab (anti-PD-1; Merck) in combination with lenvatinib (TKI, VEGFR inhibitor; Eisai) in patients with radioiodine resistant, locally invasive and/or metastatic differentiated thyroid cancer (Opened April 2018; P.I. Dr. Bryan Haugen). Correlative research studies are underway to identify biomarkers of response and resistance to treatment. In parallel, we are investigating this and other novel combination therapies in a mouse model of advanced thyroid cancer. These studies are applicable across cancer types where patients fail to generate a durable response to antiangiogenic and checkpoint inhibitor combination approaches.
Publications
Bertol BC, Bales ES, Calhoun JD, Mayberry A, Ledezma ML, Sams SB, Orlicky DJ, Donadi EA, Haugen BR, French JD. Lenvatinib Plus Anti-PD-1 Combination Therapy for Advanced Cancers: Defining Mechanisms of Resistance in an Inducible Transgenic Model of Thyroid Cancer. Thyroid. 2022 Jan 12. [Epub ahead of print] PubMed PMID: 34641722
Pozdeyev N, Erickson TA, Zhang L, Ellison K, Rivard CJ, Sams S, Hirsch FR, Haugen BR, French JD. Comprehensive Immune Profiling of Medullary Thyroid Cancer. Thyroid. 2020 Sep;30(9):1263-1279. PubMed PMID: 32242507
French JD. Immunotherapy for advanced thyroid cancers - rationale, current advances and future strategies. Nat Rev Endocrinol. 2020 Nov;16(11):629-641. PubMed PMID: 32839578
Development of an Adrenocortical Cancer Humanized Mouse Model to Characterize Anti-PD1 Effects on Tumor Microenvironment. Lang J, Capasso A, Jordan KR, French JD, Kar A, Bagby SM, Barbee J, Yacob BW, Head LS, Tompkins KD, Freed BM, Somerset H, Clark TJ, Pitts TM, Messersmith WA, Eckhardt SG, Wierman ME, Leong S, Kiseljak-Vassiliades K. J Clin Endocrinol Metab. 2020 Jan 1;105(1). PMID: 31513709
French JD, Haugen BR. Thyroid cancer: CAR T cell therapy - potential in advanced thyroid cancer?. Nat Rev Endocrinol. 2018 Jan;14(1):10-11. PubMed PMID: 29170541
General Information
Graduate Schools
:
PhD, Mayo Graduate School (2002)
Undergraduate Schools
:
BS, University of Sioux Falls (SD) (1997)
Fellowships
:
National Jewish Medical and Research Center, Allergy and Immunology (2007)
Download CV
Languages
:
English
Department
:
Medicine-Endocrinology/Metabolism/Diabetes