Anna Nguyen, PA-C, MPAS
Instructor, Medicine-Medical Oncology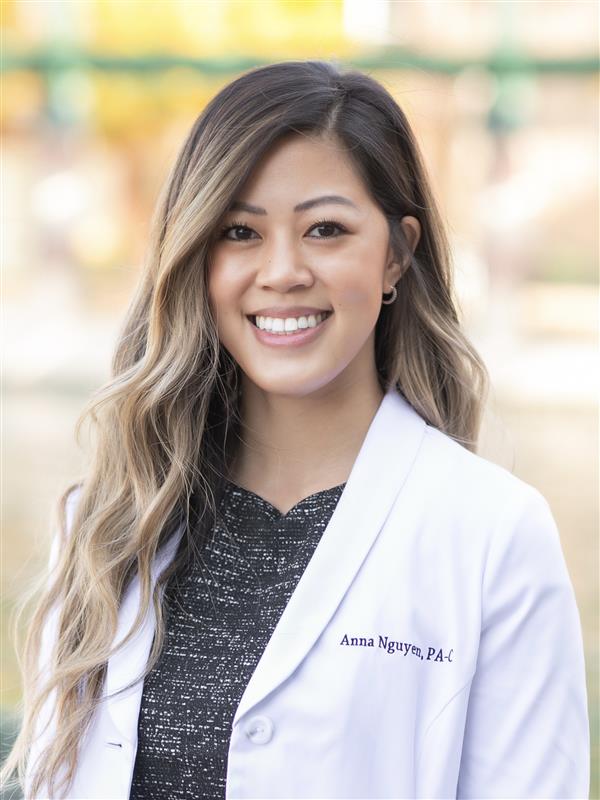 Medical School
:
MPAS, Rocky Vista University College of Osteopathic Medicine (2020)
Undergraduate School
:
BA/BS, University of Colorado - Denver (CO) (2015)
Languages
:
English, Vietnamese
Department
:
Medicine-Medical Oncology
Research Interests
My research interests include novel treatments for metastatic melanoma.
Publications
Scott AJ, Arcaroli JJ, Bagby SM, Yahn R, Huber KM, Serkova NJ, Nguyen A, Kim J, Thorburn A, Vogel J, Quackenbush KS, Capasso A, Schreiber A, Blatchford P, Klauck PJ, Pitts TM, Eckhardt SG, Messersmith WA. Cabozantinib Exhibits Potent Antitumor Activity in Colorectal Cancer Patient-Derived Tumor Xenograft Models via Autophagy and Signaling Mechanisms. Mol Cancer Ther. 2018 Oct;17(10):2112-2122. PubMed PMID: 30026382
Schreiber AR, Nguyen A, Bagby SM, Arcaroli JJ, Yacob BW, Quackenbush K, Guy JL, Crowell T, Stringer B, Danaee H, Kalebic T, Messersmith WA, Pitts TM. Evaluation of TAK-264, an Antibody-Drug Conjugate in Pancreatic Cancer Cell Lines and Patient-Derived Xenograft Models. Clin Cancer Drugs. 2018;5(1):42-49. PubMed PMID: 30631747
Greene J, Nguyen A, Bagby SM, Jones GN, Tai WM, Quackenbush KS, Schreiber A, Messersmith WA, Devaraj KM, Blatchford P, Eckhardt SG, Cadogan EB, Hughes GD, Smith A, Pitts TM, Arcaroli JJ. The novel ATM inhibitor (AZ31) enhances antitumor activity in patient derived xenografts that are resistant to irinotecan monotherapy. Oncotarget. 2017 Dec 19;8(67):110904-110913. PubMed PMID: 29340025
Quackenbush KS, Bagby S, Tai WM, Messersmith WA, Schreiber A, Greene J, Kim J, Wang G, Purkey A, Pitts TM, Nguyen A, Gao D, Blatchford P, Capasso A, Schuller AG, Eckhardt SG, Arcaroli JJ. The novel tankyrase inhibitor (AZ1366) enhances irinotecan activity in tumors that exhibit elevated tankyrase and irinotecan resistance. Oncotarget. 2016 May 10;7(19):28273-85. PubMed PMID: 27070088
Specialty Information
Specialties
Medical Oncology
NCCPA - National Commission of Certified Physician Assistants, Board Certification (0001)
Conditions & Treatments
Cancers - Skin Cancer
Cancers
Cancers - Melanoma
Clinical Interests
My primary clinical interest is the treatment of malignant melanoma.

Care Philosophy
I strive to provide the best care for my patients. I believe in patient-centered care and empowering people to make the best decisions for their health.


Personal Interests
I enjoy traveling and spending time with my family and dogs.


General Information
Medical Schools
:
MPAS, Rocky Vista University College of Osteopathic Medicine (2020)
Undergraduate Schools
:
BA/BS, University of Colorado - Denver (CO) (2015)
Languages
:
English, Vietnamese
Department
:
Medicine-Medical Oncology